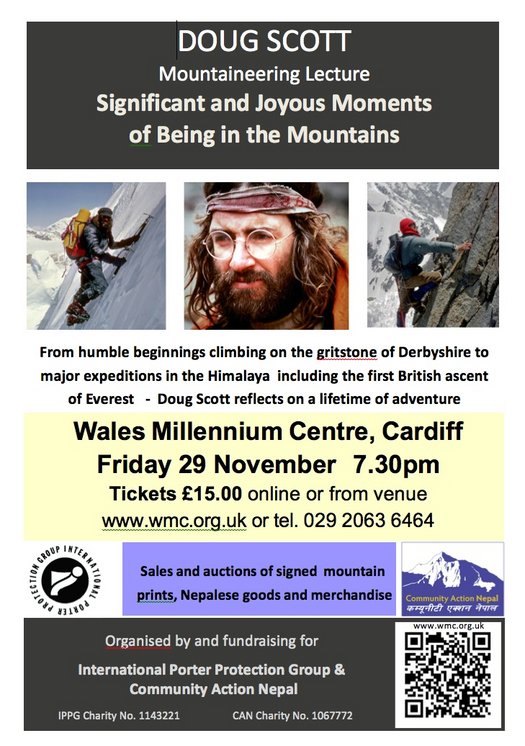 The International Porter Protection Group present:
Doug Scott CBE at the Wales Millennium Centre, Cardiff, on Friday 29th November at 7:30pm
with his new lecture 'Significant and Joyous Moments of Being in the Mountains'
Tickets are £15 available from the Wales Millennium Centre
https://www.wmc.org.uk/Productions/2013-2014/WestonStudio/dougscottlecture/
This brand new lecture, lavishly illustrated with Doug's celebrated mountain photography, gives a very personal account of a lifetime spent in the world's highest mountains – both the highs and the lows.
Doug will explore his rock climbing from its humble beginnings, using his mother's washing line as a rope, on early gritstone climbs in Derbyshire, through to later ground breaking routes on the big walls of the world. Featured climbs include routes in the Italian Dolomites, on the Troll Wall in Norway, in Yosemite in the USA, on Mount Asgard in the Arctic Circle and the Ogre in the Karakoram.
All proceeds from this fundraising lecture will go to the charities Community Action Nepal and IPPG (International Porter Protection Group).
For more information about IPPG visit
http://www.ippg.net