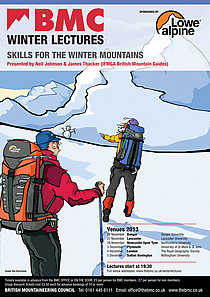 BMC Winter Lectures sponsered by Lowe Alpine
Don't miss the BMC winter skills lectures this November/December: the ideal way to get set for the season.
CONTENT
Are you ready for winter?
Neil Johnson
and
James Thacker
(IFMGA British Mountain Guides) will prepare you at the BMC Winter Lectures. These inspirational lectures are set to inspire any budding winter mountaineers out there. Sponsored by Lowe Alpine there will also be a free prize draw every night.
Neil and James will bring you up to speed on the skills required to explore the winter mountains by covering the following topics:
Equipment and clothing
Navigation
Footwork
Route planning
Avalanche awareness
Climbing and much more.
VENUES AND DATES FOR 2013
All lectures start at 19:30 and finish at approximately 21:30
Bangor - 26 November
Bangor University, School of Sport (Health & Exercise Sciences), Main Hall, George Building, Bangor, Gwynedd, LL57 2PZ
Lancaster– 27 November
Lancaster University, Frankland Lecture Theatre, Faraday Complex, Bailrigg, Lancaster, LA1 4YW
Newcastle Upon Tyne – 28 November
Northumbria University, Students Union, 2 Sandyford Road, Newcastle Upon Tyne, NE1 8SB
Plymouth – 3 December
University of St Mark and St John, Drama Theatre, Derriford Road, Plymouth, PL6 8BH
London – 4 December
The Royal Geographical Society, 1 Kensington Gore, London, SW7 2AR.
Sutton Bonington (near Loughborough) – 5 December
Nottingham University, Sutton Bonington Campus, A30 Lecture Theatre, Vet School Building, College Road, Sutton Bonington (near Loughborough), LE12 5RD
TICKETS
Tickets cost £5 per person for BMC members and £7 for non members. Group discount: purchase 10 or more tickets in advance and each one will cost £3.50. Tickets can be purchasd on the door on the night for all venues.
Tickets can be purchased online from The BMC shop
http://www.bmcshop.co.uk/index.php?cPath=347_543
or by telephone
0161 445 6111