| | |
| --- | --- |
| | / California - Eastern Sierra Contacts |
This topic has been archived, and won't accept reply postings.
Hi guys,

I moved to California in June this year and I've been tearing my hair out because I haven't been out climbing as much as I'd have liked because of the heat etc, and I'm finally getting excited for the winter season when I hit upon a Rockfax miniguide from 2004 that says that prime climbing season is September until the snow falls! So now I'm desparate to get some info on conditions and routes, as well as finding a partner for some of the harder stuff. I've tried on Supertopo and Summitpost and mostly gotten "there is no ice in Cali, duuuude" so I'm reaching out back to the UK where the sensible people live for help!

Any advice for conditions, routes, where to find partners etc. would be greatly appreciated.
In reply to
Bob_the_Builder:
This would be ice and alpine style climbing, sorry I didn't clarify.
In reply to
Bob_the_Builder: There is ice climbing in California because I've seen my friends pictures of them climbing there - it looked very cool. The place had a double barreled name, or a persons name, that reminded me of Vin Diesel, although I don't think it was actually that...
OK googled it now - Lee Vining
https://www.google.fi/search?q=lee+vining+ice+climbing
Look alright doesn't it? Anyway, sorry no help beyond that.
In reply to
Bob_the_Builder: Definitely ice in California. My daughter lives there. Certainly enough ice for her to fall 1500ft down Mount Shasta last year when she got blown off her holds. Mountaineering Route I believe it is called. If you are stuck for info, I can ask her for suggestions if you like.
In reply to
Bob_the_Builder:
Thanks for the responses! I know about Lee Vining and I'm deffo going to go there in the ice season, at the moment I'm looking for more alpine style summity routes. I have plans for Shasta and Whitney in the spring, I'm hoping to ease the long walk-ins with skis.

In reply to
Michael Ryan - UKC and UKH:
Mick - that guide book is on my shopping list for today along with gaiters since I seem to have left mine in Scotland...
Do you know who I can ask for current conditions and weather reports? It seems like there is no simple combo of mwis, sais, and glencoe mountaineer that I usually rely on in Scottish winter. =D
---
This topic has been archived, and won't accept reply postings.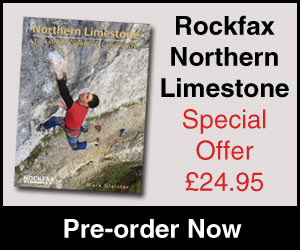 Elsewhere on the site
The release of Peter Jackson's new film The Hobbit: The Battle of the Five Armies on 12th December may not appear to link to... Read more
141212
0
F ounded in 1993, Mountain Hardwear are a pretty young mountaineering clothing and equipment manufacturer but are also one of... Read more
141216
0
Rock shoes stink – let's face it. Boot Bananas are the perfect way to fight the funk and keep them fresh. They help... Read more
141219
0
Perhaps the perfect Xmas gift for the climber in your life... Wild Country's Crack School has two of the worlds best crack... Read more
141219
0
Tonight's Friday Night Video features the Norwegian town of Rjukan, once believed to be the home of the world's tallest... Read more
141219
0
---