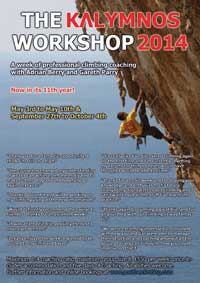 In May 2014 Gaz Parry and I will be running a week-long climbing workshop on the Greek island of Kalymnos.
This week-long coaching holiday is aimed at climbers wanting to make rapid gains, technically, tactically, and psychologically. Through ten at-the-crag workshops we will present and demonstrate the skills that lead to success in climbing.
Numbers are kept low (maximum groups size is 8) to allow for individual needs to be catered for through 1:1 coaching. By the end of the week we expect you to have made huge progress in your climbing - specifically sport climbing, but you will feel the benefits in whatever style of climbing you prefer.
The cost of the trip includes hotel accommodation, and detailed travel information is provided.
To get the most out of the trip we suggest you are able to lead grade 5 at a minimum and are eager to be pushed to climb harder - in 2012 one client went from 4+ on rock to 6c during the week - anything's possible! You need to have the safety skills required to sport climb, and you need to bring your own gear.
Here's some feedback from the 2013 trip:
"Last week has set me back on the right path and I owe that to your superb insights into the mental and technical aspects of our great sport. It's really like I've discovered climbing again for the first time and I'm currently resetting my targets for things I never would have thought I would be able to climb."
"Thanks for an epic week and for sharing your knowledge and enthusiasm. It's totally changed my approach to sport climbing and I can't wait to put all the stuff I've learnt into practice."
"Although I could not get the redpoint done it was pretty cool to climb such a gorgeous tufa route which I never would have dared to do without your confidence in my climbing abilities. I definitely will come back to Kalymnos to achieve the redpoint next year and to climb some more tufa routes."
"In terms of feedback for the week - I thought it was altogether very well planned, and the coaching by the two of you was excellent. There was a relaxed and fun atmosphere throughout the week, and at the same time I felt like I was being pushed and working hard on my climbing."
"We were extremely impressed and pleased with how you and Gaz were able to manage the instruction and coaching amongst all the group. I really can't imagine how you could improve on that."
"Your course has given me a new enthusiasm for sport climbing and we are looking forward to getting out this fall. Am thinking.....maybe I can climb a 5.11a, a thought that never occurred to me before."
Book Online
Dates: May 3rd - 10th 2014
Price: £550
Full information and online bookings at:
http://positiveclimbing.com/climbing_coaching_holidays/kalymnos_coaching_holiday.html