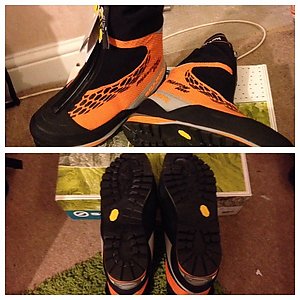 price £300 plus p&p or free to collect in sheffield
Brand new scarpa phantom 6000 in size 43
Bought for something that didnt come off and realistically I am never going to use them. Cheapest I can find them now is about £450 and thats from a shop in germany. They are £500 in outside.
You can see from the photo that these have never been worn and they still have the tags on and in the original box.
They have amazing reviews and if you like your feet warm, and dont climb grade VIII they will be just as good as the phantom guide (see dave searle's review for instance)
Sizing is debatable, especailly when out the box, as someone on here said he had bought a full size up (the liner says 42), but then he sold them after a few wears out as they had become sloppy as the liner packed out.
I think realistically it's only half a size max you owuld size up as the liner will pack out, just like a ski boot. If you wear thin socks they would probably size about the same as phantom guides after bedding in.
I have 43 phantom guides and these felt a little tighter length wise, but again, maybe only because of the liner not being packed out?
If you were a 42 you could get a thicker liner though, like the palau ones which would make them even warmer (ideal technical up to 7000m himalaya boot maybe?)
Anyway, you are free to come and try them on if you live anywhere near sheffield. (am about ten min walk from the climbing works)
I had these on ebay for £350 because of the charges and will re-list them if I dont sell them here.
Cheers.