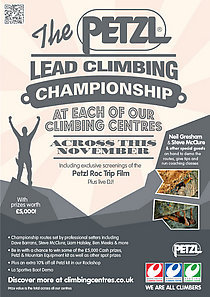 Starting on Saturday the 9th of November, the Petzl Lead Climbing Championships are three independent events running at Manchester, Harrogate and Reading Climbing Centres.
The dates for each competition are:
Manchester: Saturday November 9th
Reading: Saturday November 16th
Harrogate: Saturday November 30th
These events are open to lead climbers of all abilities, with qualifying routes ranging from 5+ to 8a. You will need to come along with a competent lead belayer as a partner for the qualifying rounds. As well as the climbing, there is the opportunity to meet up with some of the Petzl climbing team, who will be offering coaching and some beta on the routes! There will also be a screening of the Petzl Roc Trip videos, covering the last few years of trips. Petzl and Mountain Equipment have supplied a prize fund worth £1500, so give it a go to be in with a chance of some great prizes!
For more information, and specific times & dates, check out each climbing centre's website:
http://www.manchesterclimbingcentre.com/the-petzl-lead-climbing-championships/
http://www.harrogateclimbingcentre.com/the-petzl-lead-climbing-championships/
http://www.readingclimbingcentre.com/petzl-lead-climbing-championship-register-now/