| | |
| --- | --- |
| | / Kalymnos tips |
This topic has been archived, and won't accept reply postings.
Trying to plan a spring climbing trip and am considering a few destinations. I've been to El Chorro and the Costa Blanca before and fancy going somewhere new. Also I'm going to be on a pretty low budget so it would be nice to not have to hire a car. Based on these criteria Kalymnos seems to be the best bet so I'm after some tips on where to stay (cheapest and best possible) and what I need to budget for about two weeks. Also what are the chances of finding partners once i get there?

Ta Muchly!
In reply to
Daniel James:
1) Get your Ryanair Liverpool/LeedsBradford/Gatwick etc to Kos flight NOW before prices inflate.
2) Budget for taxi from airport to Mastichari (c15 euros) + ferry (6 euros) + Pothia/Masouri taxi (c18 euros). Double this for your return. Or save money using bus Pothia/Masouri (1.50 euros). Bus from airport to Mastichari will be cheap but no experience of this, sorry.
3) Another possibility if cheap flight to Athens is available is to then take magical Blue Star ferry from Piraeus to Kaly (c40 euros each way BUT airport to Piraeus is another c15 euros each way AND flight and ferries don't always match AND it's 12 hours on the ferry. However you don't pay for 2 Kos taxis or the Kos/Kaly ferry)
4) Apartments are around 20-35 euros per night for two. Plenty of apartments to choose from... easy to get in the Spring. Maybe hook up with someone beforehand and share cost.
5) Food: apartments have basic cooking facilities. Eating out is cheap, prob slightly cheaper than UK pub food.
6) On first trip, don't really need transport. There's enough crags within walking distance to keep you going for a long while. However, mountain bikes are about 4 euros a day.
7) Partners: post on UKC obviously but also on climbkalymnos.com (for more international companions). Also put notices at Kalymnos Climbing Centre and at Wilds Sports in Masouri.
In reply to
Daniel James: Check out Antalya,Turkey. Cheaper than Kalymnos for travel and accommodation, don't need a car and very easy to find partners. It's also awesome.
Dan
---
This topic has been archived, and won't accept reply postings.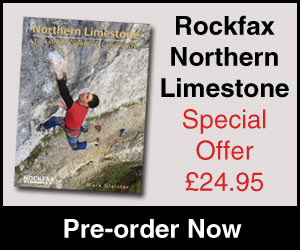 Elsewhere on the site
The release of Peter Jackson's new film The Hobbit: The Battle of the Five Armies on 12th December may not appear to link to... Read more
141212
0
PowerFingers is a simple, easy to use product which is incredibly effective for Climbers who require finger strength and... Read more
141222
0
Will Sim and Andy Inglis have made the second ascent of VIII,9 on Ben Nevis, followed by Will making a rare... Read more
141222
0