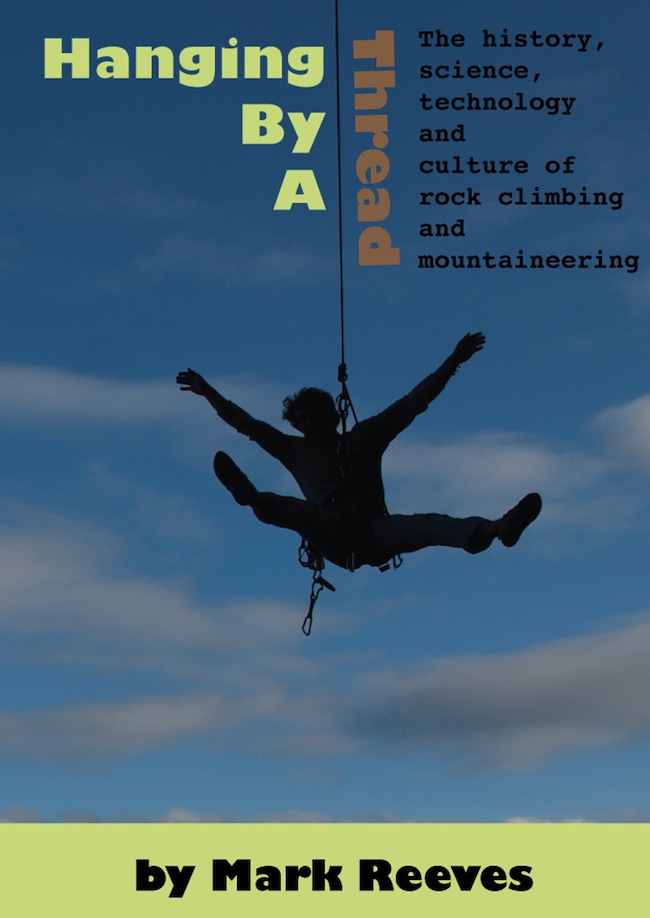 Hanging By A Thread
:
The History, Science, Technology and Culture of Rock Climbing and Mountaineering
, takes a new look at climbing from the perspective of technological breakthroughs and at times why and how they occurred.
The book started as a question, what are the ten most important innovations in rock climbing equipment and quickly blossomed into a book that linked science, technology and climbing culture together. Whilst many of the stories are well known, as this is veritable anthology of climbing tales and would appeal to any climber who'd like an accelerated introduction to the history of climbing. It also caters for the seasoned enthusiast by offering a new outlook onto those same stories.
Through the book we examine why humans may have started climbing, how altitude research has help modern medicine, how a scientist proved Sir Isaac Newton right and wrong by using a mountain to weigh the earth and what effect the space race had on climbing. In the penultimate chapter we make an exploration of risk taking and debunk the 'because it's there' idea and instead turn to psychology for answers as to why some of us choose to take risks. So if you finally want to know the real reason of why you climb then this chapter alone is worth a read, although you may not like the answer as there is a dark side to risk taking.
Hanging by a thread
is available for kindle, iPad and printed format. It might well make a perfect christmas present for a climber.
Kindle
http://www.amazon.co.uk/gp/product/B00EDO7XYK/ref=as_li_qf_sp_asin_il_tl?ie=UTF8&camp=1634&creative=...
Paperback
http://www.amazon.co.uk/gp/product/0957528051?ie=UTF8&camp=1634&creativeASIN=0957528051&linkCode=xm2...
iPad
https://itunes.apple.com/gb/book/hanging-by-a-thread/id685374098?mt=11
Other Book by Mark Reeves
Mark has written several other books on climbing and mountaineering that may appeal to climbers. They a full list and links can be found at the link below
http://snowdoniamountainguides.com/Publications.php