View latest messages in My Forums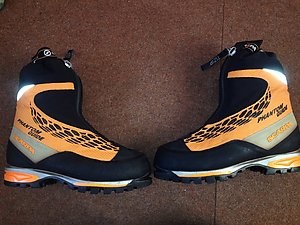 Selling a pair of Scarpa Phantom Guides in a size 45/10.5UK.
I have only used these boots for a 1 week epic to the alps in July. In great condition, no damage to the sole as they were only used on snow. Couple of black streaks on grey area from the crampon straps.
Selling them as I have not used them since and will probably not used them again.
Looking for £270 for them, bought them for £350, if your interested pop me an email and I can send more pics and we can discuss postage and the price.
In reply to
joedoherty:
Hi there mate, I'm interested in these boots. What's your thoughts on payment? Would you take £270 delivered?
Cheers, Joe
In reply to
joeallen28:
Hello, Ok brilliant, were would you want them delivered and how quickly?
In reply to
joedoherty:
Hi there mate, really sorry to let you down but I tried on some Scarpas today in my usual 10.5 (euro 45) and they came up just a bit too small. Absolutely gutted as this is such a great deal.
---
My Forums