View latest messages in My Forums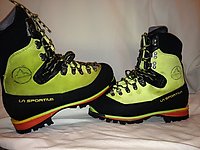 Footwear for sale;
Pair of Evolv geshido climbing shoes under a year old and only used one selling as they are too small size 41eu. Selling for £50
Pair of Wm Nepal Extreme Mountaineering Boots. size 40eu used only once and under 6 months old almost like new looking for a decent offer.
Pair of Nepal Extreme Boots size 41 used for 3 seasons but still have some good life in them yet. Decent offer only
All items in the Lakes and can send further at cost. Message for pics
In reply to
TradRat:
Hi Tradrat. The really new pair of size 40 looking at around £200 as they have only ever been used once.
Larger pair looking around £80 as I've used them for a few seasons.
In reply to
JSCB:
I have some from ebay now, apologies.
In reply to
JSCB:
Hi
I am interested in the Wm Nepal Extreme mountaineering boots in EU40- they are my dream pair of boots! However, I cannot afford as much as your asking rate- any chance of a lower price?
Hoping to do my first winter trips in Feb, tried these boots on in a shop yesterday and it was like wearing a pair of slippers!
---
My Forums