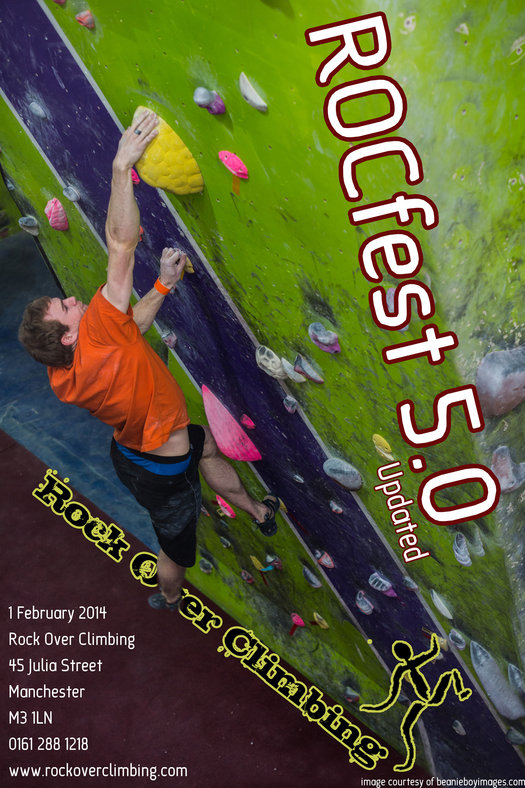 Registration for the extravaganza that is the ROCfest 5.0 has just opened, so make sure you sign up here:
http://www.rockoverclimbing.co.uk/registration-for-the-rocfest-5-0-now-open/
Online Registration closes on the 17th January.
This years event is lining up to be something spectacular, with a top West End producer on board we're making sure every single minute of the ROCfest 5.0 is an exciting and entertaining one.
As well as the "standard" ROCfest (we know, nothing about the ROCfest has ever been just standard) we're adding a Dyno competition (run by Beyond Hope – Metolius, Evolv and Prana), a slacklining jam with 4 of the best UK slackliners (courtesy of Trislacklining), professional sound and lighting for the full event and an awesome souvenir T-shirt.
Refreshments, including breakfast butties, will be available throughout the day. The heated seating area, with the main sponsor DMM stand, ensures that you wont get cold while having a break from the climbing.
With prizes for 12 (that's right, we're adding a new category) categories too, it's sure to be the biggest single-day climbing event in the UK!
Adult Open cash prizes Male & Female = 1st £500, 2nd £250, 3rd £150, 4th £100, 5th £75, 6th £50
Junior 13-15 cash prizes Male & Female = 1st £100, 2nd £75, 3rd £50
Only 275 places are available this year – once they're gone, they're gone! Online registration closes on 17th January.
Entry Prices:
Despite our best efforts, we have to charge everyone an entry fee for the ROCfest. This partially covers the staggering prize fund (over £2700 cash prizes plus more than £2000 worth of equipment), the hard working staff both on the day and for months of preparation leading up to the event, the spectacular shows & professional lighting and sound engineers, and all the other incredible aspects of ROCfest.
For only £18 for an adult and £15 for a child on the day (child prices apply to Under 16s) you get full entry to the day's events, plus an amazing souvenir limited edition T-shirt.
Register now online to save £3 on your entry fee. Online registration closes 17th January