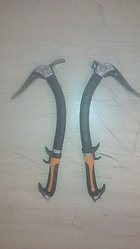 Selling my Petzl Quark's as I have a set of Nomic's and don't need them both!
They are the new style Quark with the 'trigger finger' upper rest. They have been used for 2 winter seasons and 2 trips to the alps and are in fairly good condition. The shafts in particular are in good condition as they have usually been completely covered with grip-tape. Although there is a few dents on the shaft of one axe, where it was hammered for a buried axe belay but it is purely cosmetic.
Picks have plenty of life in them as well, I sharpened them up for this season and removed the first tooth for better clearance when climbing. The cheapest I can find them new on the web is £280, so looking for £210 including postage to mainland UK.
A really good tool and a little sad to see them go, but unfortunately I only have two hands!
Post here or PM me for details or pictures.
Cheers