| | |
| --- | --- |
| | / Thailand rock climbing trip in jan (ao nang) |
This topic has been archived, and won't accept reply postings.
Hi there I'm planning on a trip to thailand in January, my main aim is to climb as much as possible over the ten day trip. Flights are proving to be quite expensive so a package seems to be the way forwards. I gather krabi is a good area to climb, as we are on a bit of a budget ao nang is coming up as an option. Has any body out there based themselves there to climb? Or have any must go places. Any advise would be greatly appreciated

Cheers
In reply to
mugglewump:
Stay in Tonsai, you can walk to almost all crags. If you stay in Ao Nang, you'd have to get a boat in to the crags each day = ballache
In reply to
mugglewump:
Staying in Ao Nang is a good option - especially if you are happy riding a moped. You can take day trips over to the Railay and Tonsai crags, plus also ride out to some of the newer crags that are close to Ao Nang. I personally thought that Chong Pli was a great spot. Also, you can access Vinland walking from Ao Nang, plus a handful of other crags with a short ride on the moped. Consider a few days on Koh Yao too - much quieter over there - possible to ride over on the scooter (you will need to lift it on to the boat) - amazing climbing, especially the Mitt.
Enjoy! I will be there from 25th Jan onwards so get in touch if you are still there at that point and we can meet and climb.
In reply to
mugglewump:
Forgot to also say that staying in Ao Nang will allow you to really explore the area's non-climbing stuff. It is a beautiful area with lots of Thai culture, which you really wont experience if you stay over in Railay or Tonsai! Ao Nang itself is pretty touristy but in a 20 min moped ride you can really see the real rural Southern Thailand. Enjoy!
---
This topic has been archived, and won't accept reply postings.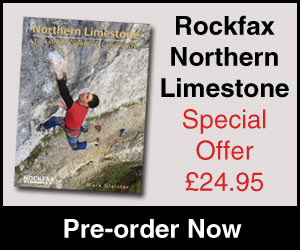 Elsewhere on the site
The Epicentre Mega Winter Sale starts in store 9am Christmas Eve. We have a great selection of in store only deals from... Read more
141218
0
F ounded in 1993, Mountain Hardwear are a pretty young mountaineering clothing and equipment manufacturer but are also one of... Read more
141216
0
This years ROCfest will be slightly different. We've decided to run a Climbing Festival, not just a competition! Over... Read more
141216
0
At a bar in Llanberis an old man chimed in And I thought he was out of his head Being a young man I just laughed it off When... Read more
141203
0
On Saturday 13th December Greg Boswell and Guy Robertson kicked off their Scottish winter season early by making the... Read more
141218
0
---