| | |
| --- | --- |
| | / Ski touring norway advice |
This topic has been archived, and won't accept reply postings.
I'm looking into a ski tour trip to Norway March/April time and wondered if any folks on here had some advice. I'm thinking a 2-3 week trip, haven't committed to any area yet but really like the look of Jotunheim.

My main questions would be can you do it on the cheap (I've heard Norway's really expensive), where are the best places to be looking at for that time of year, are there any guide books, what are best ways of getting round over there (rent a car, public transport, hitching) and is there any good website apart from ut.no?

Also if anyone knows of or has written up any reports or blogs from trips I would be interested in reading them.

Cheers Sam
In reply to
sam_owen41:
What type of skiing? Alpine ski touring or Nordic type touring. Doesnt actually matter you could do either.
Ive been Alpine ski touring to Hurrungane twice for 3 days in May, its the SW corner of Jotunheim. We camped on the grass in between melting snow patches, outside the hotel. You have to pay the hotel if you want to use there showers, else wash in the freezing river. The Hurrungane ski season is more April / May though i,d say. Loads of great mountains accessible straight from the campsite. Road(s) might not even be open in March. This prob also goes for greater Jotunheimen - altho ive never been :-( - They tend to get everything ready for Easter, so if going March then definatley the later the better. The weather in March could still be severely inclement (or any time for that matter), but generally by late March things cheer up significantly in Norway.
My buddy did a couple of alpine ski tour trip in jotunheim main, there are some good huts to use as a base, forget the names; Leivarassbu? and others...check the interactive map on DNT website...
If you scour that DNT website you should find some sort of bus that the DNT put on from Oslo for easter at least. Drops you off somehwere where you get a ride up a hill by a cat buggy thing, then you skin in to the huts. As i say, never did it yet...
and download Norgeskart onto your smartphone. Free topo maps for the entire country. zoom in when connected to wifi for free download of the particular sheet, it stays on your phone for 30 days so when not got wifi can use phone as GPS.
Good luck!
In reply to
sam_owen41:
I live up in Trondheim, but most of my trips are either day trips or a weekend trip staying in a NTNUI cabin. Sometimes I've stayed in a ferie hytter.
You can also sometimes find accommodation on finn.no - a bit of google translate can help for finding holiday rentals in the area you're visiting.
I always travel with a car. Overall, not having a car is very restrictive I think. It's about £60-80 per day for a decent car hire usually.
This year I spent 10 days in Lofoten at Easter which was pretty good except the avalanche level was very high.
Next easter I'm heading to Lyngen for 10 days.
My mate has written a few blogs about some of the trips (including Lofoten) - have a scan through if you like:
http://scoop.simplyexcited.co.uk/
Also, in terms of websites I find
http://www.ifriluft.net/
quite useful.
A few of the routes I've done are on there; Skjorta, Dronningskrona, Fløtatinden, etc.
Topptur is the norwegian way of describing randonee / alpine tour skiing.
Hope that helps a bit.

Wow that's a lot to think and looking through Skiing artic summits to sea level sounds very attractive. So many places so little time! The idea of having camping gear in between hut stays appeals to me (and my pocket) plus I really like the look of this tour
http://ut.no/tur/josten-p%C3%A5-langs
which has a couple of camps.
Need to have a good look at what's on offer and decide what to chase.
Thanks for all the info folks the more the better!
Sam
---
This topic has been archived, and won't accept reply postings.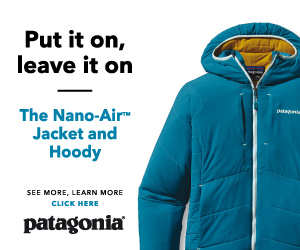 Elsewhere on the site
Rock shoes stink – let's face it. Boot Bananas are the perfect way to fight the funk and keep them fresh. They help... Read more
141219
0
Tonight's Friday Night Video features the Norwegian town of Rjukan, once believed to be the home of the world's tallest... Read more
141219
0
With four photos in this week's top ten, and a UKC gallery of stunning images we thought it was time we had a chat with... Read more
141203
0
F ounded in 1993, Mountain Hardwear are a pretty young mountaineering clothing and equipment manufacturer but are also one of... Read more
141216
0
Perhaps the perfect Xmas gift for the climber in your life... Wild Country's Crack School has two of the worlds best crack... Read more
141219
0
---