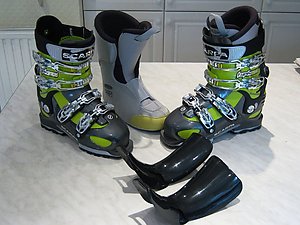 Scarpa Typhoon, size 26.0, PRICE - £180 inc. postage
Bought in a rush before a trip to Chamonix this year where I wanted a boot with a walk mode and touring sole unit but with good Freeride capabilities.
These boots are definitely more Freeride orientated but with the option for getting to more remote places with a greater degree of control and comfort!
Worn for ONE RUN and subsequent walk back to car!!! They retailed for £400 when I bought them this year so they are an absolute bargain!!
I have issues in general with my feet with all footwear and ski boots cause the most problems. Standing in the shop they feel OK, but as soon as I ski with them (correct socks and footbeds being used), I am in crippling agony. These unfortunately were no exception!!
On the trip I ended up buying a pair of new boots from Snell Sports!
Liners haven't even been molded as no time but they are too big so it would be a waste of time to mold them for myself. (I bought a half size up to try and alleviate some of the issues I normally get with ski boots but it didn't stop the pain plus there was now some movement!)
They are intuition liners so they will give a very good precise fit.
As you can see from the photo, the boots are in immaculate condition and come with a walking tongue (more flexible). I have more photos available on request.
pjdwyer@hotmail.co.uk if you would like to contact me directly.
Thanks for reading.
Phil