View latest messages in My Forums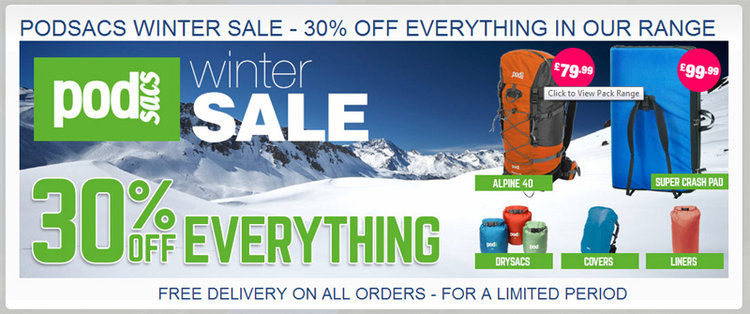 Podsacs have just launched our new online sales website
http://www.podsacs.com
To mark this event we are having a 30% off everything winter sale. Just to put the icing on top of that we are offering free delivery on everything.
Merry Christmas and a Happy New Year to all at UKC from Podsacs
http://www.podsacs.com
In reply to
Hugh Cottam:
Purchased the alpine 40 just before Christmas. Fantastic bag with some great features, well made and a steal at £79 in the sale. Best working bag ive ever had, im not on commission!
In reply to
kevinr:
We're always very pleased to get such positive feedback. The Alpine range are sometimes a little overshadowed by the big reputation of our older designs such as the Black Ice. The Alpine are steadily developing their own solid reputation. And you're right, they are a steal at that price!
In reply to
Hugh Cottam:
Are the Alpine bags equivalent to the Thin Ice? I have one that has done well that is due for replacement soon.
In reply to
damowilk:
In many ways the Alpine bags attempt to take the best of the Black Ice and the Thin Ice and improve them with the use of more up to date lighter materials. The core idea is comfort with the ability to strip the pack down and make it lighter as and when required.
The Thin Ice was stripped to the bare minimum and does not have the fully supported back system like the Black ice so careful packing of the pack is required for maximum comfort. The Alpine range have the full back system but can also be fully stripped down. If you look at the figures below you can see the Alpine range starts heavier and more comfortable but as you strip it down it actually ends up even lighter than the Thin Ice.
Podsacs Alpine 40 (Size B) Total Weight: 1.5kg / 0.8kg stripped
Podsacs Thin Ice (Size 2) Total weight : 1.16kg / 0.9kg stripped
Post edited at 20:14
---
My Forums