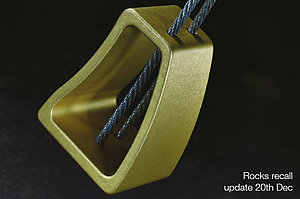 We are now in the situation of having manufactured enough product to replace all registered recall claims. Replacements for the majority of UK customers have been posted and will arrive during the Christmas break. All remaining UK claims for which we have received returned product will be processed over the Christmas break and posted shortly after New Year.
As ever if you have any questions you can get in touch with us at: recall@wildcountry.com
If you were unaware of this recall and have any Rocks which you think may be involved in the recall you can go to our website to find out more:
http://bit.ly/GCt0sr
Many thanks for everybody's patience, climb safe and have a great Christmas break.
As a reminder we also issued the following update on the 7th December...
Martin Atkinson, Wild Country Managing Director issued the following statment about the Rock recall "Following the last update in mid November we have dispatched replacement product to non-European countries such as North America and Australia. We have also continued to ramp up production and have now built up considerable stocks, the CE certification has been issued and we are preparing packages for shipment to customers in Europe and the UK. We will have the majority of rocks returned to us replaced prior to Christmas.
It has been quite a journey to get to this stage and I would really like to apologise once again for the delay and inconvenience and thank everyone for their patience and understanding."