| | |
| --- | --- |
| | / yosemite,big bear,red rok canyon from LA base |
This topic has been archived, and won't accept reply postings.
hi all worldly experts , U.S.A. in april with non climbing girlfriend , above locations have been suggested , will i find grade 1 or 2 scrambles and/or ice , thanks for help , owen.
In reply to
osheye:
No experience of the others but April in Yosemite could still be very snowy. However, it might not be, depending on what the weather does this year - how long's a piece of string? Not very useful but you're right on the cusp of when the snow will melt. Badger Pass (skiing) usually closes late March or early April. There will, as a minimum, very likely be snow in the upper valleys.
It's a fair trek from LA too, certainly not day trip distance.
In reply to
osheye:
you really need to ask on supertopo (the american climbing forum). But snow will potentially be problematical as Yosemite is on the west side of the sierra and redrocks is on the east. Until may most of the passes will still be shut - when I went (in May) the Tioga pass was still shut and the Sonora had 14 feet of snow either side of the road! Yosemite's waterfalls will be working well which will be a bonus for your missus - we walked up to the top of Yosemite falls on the footpath on a rest day.
In reply to
osheye:
FWIW, California is experiencing a severe drought at the moment. Bad news for a lot of people but it does mean that you've got a good chance of finding dry rock to climb on in Yosemite this April. Mountain Project (www.mountainproject.com) is another good source for all kinds of info about various US climbing areas.
Red Rocks and Yosemite are both weekend destinations, not day trip destinations, for anyone based in LA. You can get to Red Rocks from LA without crossing Tioga or any other Sierra Nevada passes. Red Rocks might be a little warm for climbing after early April.
Another option is Joshua Tree National Park, in the Mojave Desert. Closer to LA than Yosemite or Red Rocks, thousands of mostly single pitch routes on quartz monzonite formations, and very popular with Southern Californians. Like Red Rocks, J Tree usually gets very warm after early April.
If the Tioga Pass road opens early this year (and I'm starting to think it will), it might be fun to include a day or so in Tuolumne Meadows if you're spending more than a weekend in Yosemite Valley.
How long will you be in the US? How much time will you have to climb?

---
This topic has been archived, and won't accept reply postings.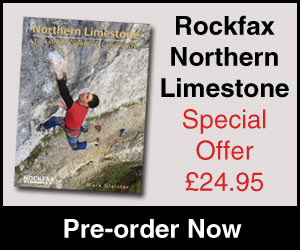 Elsewhere on the site
With four photos in this week's top ten, and a UKC gallery of stunning images we thought it was time we had a chat with... Read more
141203
0
Perhaps the perfect Xmas gift for the climber in your life... Wild Country's Crack School has two of the worlds best crack... Read more
141219
0
Tonight's Friday Night Video features the Norwegian town of Rjukan, once believed to be the home of the world's tallest... Read more
141219
0
Rock shoes stink – let's face it. Boot Bananas are the perfect way to fight the funk and keep them fresh. They help... Read more
141219
0