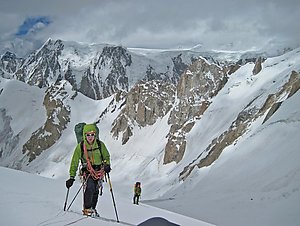 Going Beyond: Pushing the Limit
with
Simon Yearsley and Pen Hadow
Tuesday 25 February, 7pm
St George's, Bristol
Tickets £12 (plus £1 booking fee)
Available from St George's:
http://www.stgeorgesbristol.co.uk/event/going-beyond-pushing-the-limit
Going Beyond returns with two pioneering and thought provoking speakers. Join us for a feast of beautiful images and tales of adventure on an epic scale.
Simon Yearsley has a passion for exploratory climbing in remote and beautiful locations. He has climbed all over the world, discovering new routes and summits along the way.
Pen Hadow is a record breaking adventurer and environmental champion whose achievements include being the first person to try unsupported to the North Pole by the hardest route.
The evening will include a prize draw - your chance to win some top-of-the-range kit to prep you for your own adventure - and will close with an opportunity to put your questions directly to our speakers.
Treat your inner adventurer to what promises to be a truly inspirational evening.
In support of the Youth Adventure Trust:
http://www.youthadventuretrust.org.uk