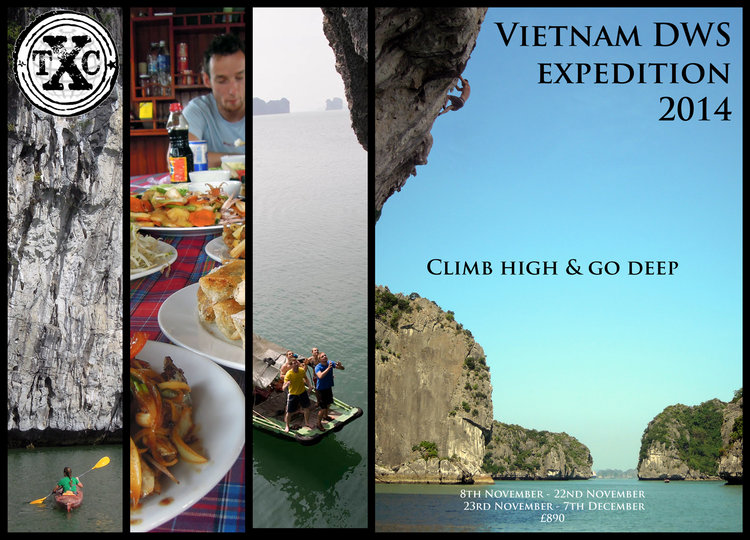 Due to high demand for our deep water solo expedition to Vietnam this November we have decided to extend our stay there and give more people the chance to join us. Once the team is complete we expect to be putting up hundreds of new routes, which will add to the growing database that is turning the area into the fastest growing climbing area in SE Asia.
Escape the gloomy, damp, short days of November and December and head for the warm tropical waters that surround the thousands of islands that litter the Ha Long bay area. Islands that myth tells us were spat from the mouths of dragons. Caves, towers, archways and walls lay in wait for our return. Sleeping, eating and resting on board the "mother ship" and exploring on basket boats and sea kayaks we will only need to touch land to climb. The only thing limiting the amount of climbing you want to do is the strength in your arms and the skin on your fingertips. And when you do need to rest your tired arms you can unwind with a belly full of great food, being rocked to sleep by the lapping waves with your toes dipped in the cool water, maybe a good book by your side, dreaming of what untouched rock waits around the
next corner.
Click here to read more:
http://expeditionconsultancy.com/wp/2013/03/vietnam-2014-climbing-expedition/
Do not hesitate to email if you have any questions or you want to be a part of this trip.
If you want to be kept up to date with this and other exciting expeditions the easiest way is to go and like our Facebook page -
https://www.Facebook.com/Theexpeditionconsultancy