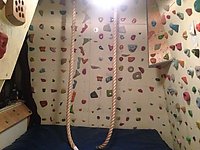 Price: £900
Hi there , for sale is my home climbing wall .
An absolutely amazing thing to have at home !
The room measures roughly 3.5 m x 3.5 m and 2.8m high , the whole room is a bouldering wall. Included in the sale is,
All ply panels , all fixings , all back bracing
All climbing holds ( around 400 of various sizes ) , triangular volume , the big rope , a rope ladder(home made), 3 crash mats 1 8ft x 4ft x1ft thick, 2 8ft x 4ft x 6 inch thick .
This would be excellent for a spare room ,garage , shed or loft ect ect .
Looking for £900 a bargain as the holds themselves are worth an easy £800
Thanks for looking
Theres a youtube clip of me doing a lap round the room
http://www.youtube.com/watch?v=bzKYZI7Usqs
May split make me an offer. The climbing walls in Glasgow
Message me if your interested 07824 725 890
Michael.