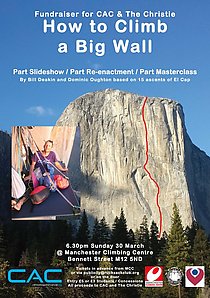 Charity slideshow in aid of Climbers Against Cancer and The Christie - How to Climb a Big Wall
– Sunday 30 March at 6.30pm at Manchester Climbing Centre, Bennett Street, M12 5ND
Bill Deakin and Dominic Oughton have, between them, climbed El Cap in Yosemite Valley a total of 15 times. They will be presenting a multi-media extravaganza on Big Wall Climbing at MCC on Sunday 30 March, with all proceeds going to Climbers Against Cancer and The Christie. The evening will be part slideshow, part re-enactment (in 3D with the benefit of being at a climbing wall!) and part masterclass, and is aimed at all those who have an ambition to climb the iconic "Big Stone" or who just want an entertaining evening seeing how it's done. If you'd like to know your fifi hooks from your daisy chains; your RURPs from your Beaks; or are just intrigued by the challenging sanitary arrangements, then this is the slideshow for you. Anyway – it promises to be a lot of fun, so do try to join us.
Tickets / donations of £5 per head / £3 concessions (or as much as you can afford!) either at MCC, by emailing
Publicity@RucksackClub.org
or on the door.
The event is supported by Manchester Climbing Centre
http://www.manchesterclimbingcentre.com
and The Rucksack Club
http://www.rucksackclub.org
with all proceeds going to support Climbers Against Cancer
http://www.climbersagainstcancer.org/
and The Christie
http://www.christie.nhs.uk/.
Members of The Rucksack Club will be climbing at MCC ahead of the slideshow (from about 3pm) so if you'd like to come along and meet us look out for the "Get Out There!" T-Shirts.