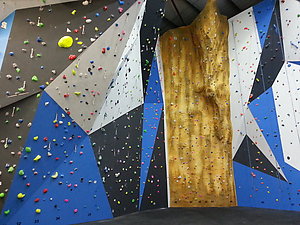 Brighton & Hove Climbing Centre is now open at the Withdean Sports Complex
The centre features 58 rope lines in two separate bays up to a height of 13.0m with over 160 routes from grade 4 to 8a. there are routes from Ethan Walker, Andy Long, Emma Twyford and Gaz Parry.
There are two dedicated floors of bouldering and an industry leading training facility with a full size campus board, Beastmaker fingerboards, system boards a full size 45 degree training board plus plenty of floor space for ground exercises.
All High Sports and Climb London members have automatic membership and there are special rates for Brighton Students and local climbing clubs and groups.
Climbing has been in high demand in Brighton for many years and now the residents are spoilt for choice! With excellent road and rail links we look forward to welcoming you soon.
You can see more details about the wall in our classified advert on UKC or at
http://www.high-sports.co.uk/brighton
Contact us:
0845 363 1177 or email
brighton@high-sports.co.uk
Facebook - highsportsbrighton
Twitter - @climbbrighton