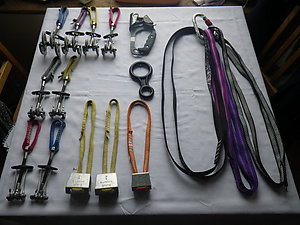 Price: £160
8x Rock + Run Cams £120: Size 0.0, 0.5, 1.0, 1.5, 2.0, 2.5, 3.0, 3.5. Good condition, sling stitching not frayed, cosmetic wear to alloy parts, swages and wires in good condition. Number 1 has taken a fall and 3.5 has been used for lower off adding slightly to wear and tear. Still trustworthy and were used this weekend on grit. Selling as I rarely use them climbing limestone or winter.
1x HB Jumar £10: Scratched with a little corrosion to working part. Scratches though deep are not located where they could come into contact with rope or affect performance. Selling as I don't use it and prefer my wild country ropeman.
1x Fig. 8 £5: Never used, no signs of rope wear and tear, just scratches from being racked.
3x HB Quadratics £15/£5 each: Size 2, 3, 3. Good condition, given to my by my work, bought and used once/never then put into storage. Slings are in reasonably good nick. I've replaced my rockcentrics with a set of these as I prefer placing them in winter and summer as they have a great camming action. I've taken small falls on my set and they have held up well. I recommend these to anyone. Selling as I don't need more hexs.
3x Slings + 1x HB HMS £10: 120cm Troll, 120cm Petzl, 120cm HB Dyneema. Stitching all good, used until recently but well taken care of. HMS shows little signs of wear. Selling as I have too many slings.
I accept payment via paypal and will quote you a price on shipping dependent on your order. Deliveries will be recorded. Alternatively you can meet me in Glasgow. Email me at oliver.heyes at gmx.co.uk with any questions or quotes. Please don't paypal me until I have confirmed the sale to you.
Thanks.