| | |
| --- | --- |
| | / Fantastic Customer Service from Deuter |
This topic has been archived, and won't accept reply postings.

I'm quite quick to criticise so it's only fair that I re-balance this when good things happen.

Once in a while a company go out of their way to ensure they have a happy customer and that's exactly what I believe Deuter have done on this occasion.

I had a small issue with one of my Deuter rucksacks and I thought I would email them to highlight this. I told them that the sack had been lightly used for 3 years and that I was not looking for a replacement but just wanted to say that I was slightly disappointed that the sack had only lasted 3 years of light use.

Rachel from Deuter asked if it was possible to send them the sack for inspection. I replied saying that the post office where going to charge me £8 for postage and I was not prepared to pay the postage. She then said that she understood and then arranged for a courier to collect the sack as Deuter took any kind of malfunction seriously.

I was not expecting to hear anything back from them until yesterday I got an email stating that they had looked at the sack and on this occasion would like to offer me a new replacement sack.

This morning a brand new rucksack was delivered to my door.

I am most impressed.

thanks a lot Deuter

Gaz
In reply to
Gazlynn:
I'd like to add that a while ago I had an issue with the buckle of my Osprey rucksack snapping. I'd bought it off UKC and used it rather harshly but they still quickly posted me a new one out and it was sorted out in a week. It's nice to see company's receiving credit when they do good!!
In reply to
the OP and SuperMike64:
Do you think BT might take this on board when their broadband proves to be unfit for purpose....?!
Nice to see your examples of good client service however.
In reply to
Gazlynn:
Plenty of companies are only too happy to send out spare parts free of charge. Those I've received have been from Topeak for my bike track pump, Hope Technology for bike parts and Samsonite for luggage. Hope are an especially good firm, you will read only praise for them on the web.
In reply to
Gazlynn:
Deuter replaced a knackered rucksack of mine nice and quickly. Kudos to them
---
This topic has been archived, and won't accept reply postings.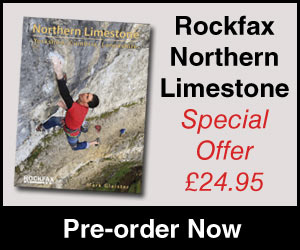 Elsewhere on the site
At a bar in Llanberis an old man chimed in And I thought he was out of his head Being a young man I just laughed it off When... Read more
141203
0
The Epicentre Mega Winter Sale starts in store 9am Christmas Eve. We have a great selection of in store only deals from... Read more
141218
0
F ounded in 1993, Mountain Hardwear are a pretty young mountaineering clothing and equipment manufacturer but are also one of... Read more
141216
0
On Saturday 13th December Greg Boswell and Guy Robertson kicked off their Scottish winter season early by making the... Read more
141218
0