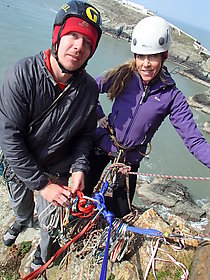 Instructor Training Month plus ML and SPA dates
Our March Instructor Training Month has just finished and was a great success!
Cath & John joined us for the month and we got loads done, from climbing at Gogarth to practising navigation in the Carneddau, they've experienced lots and learn't loads.
John passed his ML at the end of the month and Cath did her ML training. Both of them also completed their SPA training.
The next course starts September 1st and this time we have four spaces, but one is already taken so don't delay...
The course costs £1495 including:
ML training OR assessment
SPA training OR assessment
16hr Outdoor First Aid course
We also have some ML & SPA dates:
SPA Assessment 5-6th July £110
SPA Training 27-28th Sep £110
ML Training 7-12th July £300
ML Training 29th Sep - 4th Oct £300
We are based in Snowdonia, N Wales so have access to some of the finest crags and hills, plus it's always sunny...
I'm an experienced and super keen Mountaineering Instructor and other instructors I use are all appropriately qualified and importantly psyched for climbing and mountaineering.
For loads of shots of the last instructor course and other courses we've run recently check out my Facebook page:
http://www.facebook.com/jbmountainskills
And for further info on all our courses:
http://www.jbmountainskills.co.uk