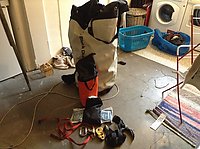 The following big wall gear is for sale. Most has been used on one big wall, with the exception of the waste case, which is completely unused, and the Voltige which has minimal use.
Black Diamond Zion haul bag - good condition, £70
Metolius Waste Case + 8 WAG bags - unused, £40
Petzl Croll + Torse shoulder strap - excellent condition, £30
Petzl Pro Traxion + DMM Ultra O screwgate - excellent condition, £60
Petzl Voltige chest harness - excellent condition, £20
Additional photos available on request.
Delivery will be extra, or it can be collected from Leeds.
Cheers,
Kevin