View latest messages in My Forums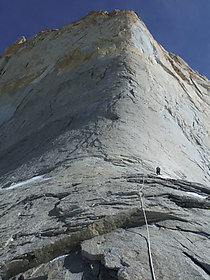 In November 2013 Jerry Gore, together with two of Britain's best mountaineers - Twid Turner, and Calum Muskett – made the first ascent of the S.E. Wall of The South Tower of Paine in Patagonia.
In 2001 Jerry was diagnosed a Type 1 insulin dependent diabetic, this is the story of how Jerry overcame his condition, testing his blood sugar levels and injecting insulin up to 8 times a day in one of the most inhospitable regions on the planet. All this to raise money to help save the lives of 7 young diabetics in war-torn Ecuador, through the international charity Insulin For Life that recycles and distributes insulin to Third World Countries.
Jerry will be presenting an illustrated lecture on the expedition in the
Outside Cafe in Hathersage on Wednesday the 23rd of April at 7:30pm
. Tickets are priced at £7.50, and are available here:
http://www.outside.co.uk/shop/Jerry+Gore+Lecture+-+Wall+of+Paine
60% of all monies raised will go to the Insulin for Life "Ecuador Project".
https://www.facebook.com/JerrysInsulinChallenge
http://www.insulinforlife.org/10-site/70-ecuador-project
http://www.outside.co.uk/latest/news/Jerry-Gore:-The-Wall-of-Paine-Lecture
---
My Forums