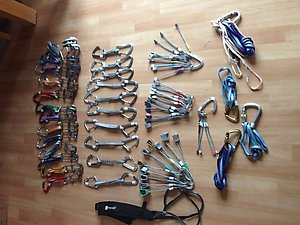 FOR SALE: full rack of climbing gear £900 in excellent condition.
I am reluctantly selling all of my remaining climbing gear as a set which includes:
Metolius Bandolier
5 slings of various sizes Mammut and DMM
13 DMM Cams sizes from 0.5-3.5
35 Wild Country Nuts sizes 1/4 -14
10 DMM wide gate quick draws various sizes
All gear has been well looked after and hardly had any use. No falls have occurred on any of the gear. Some of it has never been used and in as new condition as I climbed with my partner and used his gear.
I am only selling due to my toddler's disability becoming a lot worse and unable to get out anymore.
An excellent complete rack for any level.
Please contact for further photos as the site only let's me post one.