| | |
| --- | --- |
| | / *Stolen" abseil rope St Govans |
This topic has been archived, and won't accept reply postings.
Would whoever took my abseil rope from the top of the main St Govans descent route on Saturday afternoon please get in touch at once so they can return it to me?

Originally I naturally assumed that it must have been picked up by mistake, but having spent much of the remaining weekend asking climbers on the cliff top, at the three main campsites and at the St Govans Inn whether they knew anything I am beginning to have my doubts. How can you not realise that you have walked off with a coiled 55 metre white static rope, which was lying next to my red crux rucksack while I climbed Space Cadet? Surely by Sunday anyone would have wondered why they had "gained" an extra rope?

Not happy, John
In reply to
John Alcock:
Hope it turns up John. I'm sure someone will realise. I asked around but nobody seemed to know
In reply to
Ged Desforges:
10 days on and no one has got in touch to say they accidentally took my rope, so I have now reported the theft to the police. I think there was a spate of thefts from the cliff tops a few years ago. Let's hope this isn't the start of another one, particularly as climbers in Pembroke frequently have no choice but to leave unattended gear at the top of the crag.
In reply to
John Alcock:
Hi John,
Sorry, some of our friends picked up the rope by mistake, we were asked about it at the campsite but weren't aware at the time that the other half of our group had accidentally lifted it.
Honest mistake, where are you based and we can get it back to you ?
Regards,
Matthew Glenn

In reply to
mglenn3494:
Hi Matthew
That's great to hear. I'll message you privately with my details.
Many thanks
John
---
This topic has been archived, and won't accept reply postings.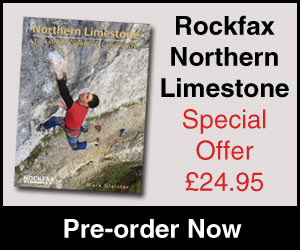 Elsewhere on the site
Tonight's Friday Night Video features the Norwegian town of Rjukan, once believed to be the home of the world's tallest... Read more
141219
0
Rock shoes stink – let's face it. Boot Bananas are the perfect way to fight the funk and keep them fresh. They help... Read more
141219
0
F ounded in 1993, Mountain Hardwear are a pretty young mountaineering clothing and equipment manufacturer but are also one of... Read more
141216
0
Perhaps the perfect Xmas gift for the climber in your life... Wild Country's Crack School has two of the worlds best crack... Read more
141219
0
With four photos in this week's top ten, and a UKC gallery of stunning images we thought it was time we had a chat with... Read more
141203
0