Actually, thats a misleading title; this mod is an integral part of the structure. The idea came to me after a trip to Terradets sector Bruixes in Lleida, where I observed just how much the action centres around tufas, and further on noting that I lacked pinch grip strength in certain moves. How could I train for tufas and make my home wall more interesting?
So its quite simple. Those supports which are normally hidden behind your plywood - come to the front. Make them a bit deeper in section ie. 2 x 5 inches instead of 2x 4. Sand all and plane the front arris.
Then you have a choice, to fasten outset holds with wood screws or if like me you're into woodwork, get the router out and create slot holds in the wood. I have 2-finger pockets, pinch-grip holds (shallower slots on each side) and undercuts on the 'bars'. The bars work like noggings in a stud frame - to stabilise the whole structure.
Basic specs for this wall:
Height 3m30, Width 2m40 The plywood starts at 80cm. Studs are douglas.
Angle 10deg. Both sides are equipped. The angle is adjustable with chains attached to a purlin in the barn.
The two plywood sheets are setup independently and then raised and joined with a crossing spar at top on the 'slab' side. On the steep side I have a 1inch galvanised pipe in the studs which is your the 'grab' to finish all sequences.
I have a mixture of plastic and home-made wooden holds. The single most useful wood section are the offcuts from rough slabs from the sawmill. They are the rough irregular edges (with bark) of the plank cut away in order to create a regular square-cut plank. Many of these are attached with wood screws but I have begun to make bolt on holds too.
In pictures: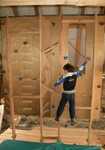 http://www.ukclimbing.com/images/dbpage.html?id=240249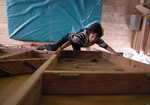 http://www.ukclimbing.com/images/dbpage.html?id=240250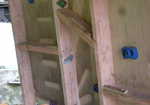 http://www.ukclimbing.com/images/dbpage.html?id=240251
Post edited at 13:04