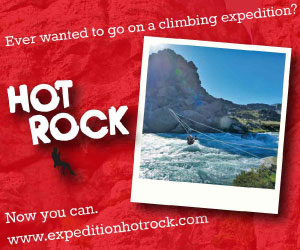 HOT ROCK SOUTH AMERICA 2015/2016
Cordillera Blanca - Patagonia - Andes
July 4th - January 2nd
Take a big red specially converted climbing expedition vehicle.
Add 20 – 25 climbers from all over the world.
Head off across the globe.
Stop off at the best established climbing areas in
Africa, South America or Asia.
Develop new crags as we pass
And be part of local cultures where ever we go.
That's Hot Rock.
From July 2015 Expedition Hot Rock will be embarking on another ambitious overland crossing and hitting the best crags that South America has to offer. Along the way we'll experience life at +5000m, cross the Uyuni salt flats, make camp in the driest place on earth, climb splitter cracks in the desert and take on the world class climbing and exploration to be found in Patagonia!
The Expedition will last for 6 months and is broken down into 3 Stages. Take a look at the route, choose a stage or join us for the whole thing (recommended!!!). And if the dates don't work for you - don't stress, we are pretty flexible and if you're happy to find us on route you can join us pretty much wherever you choose!
Happy climbs!
Tom & Jon
Check out our Route here -
http://www.expeditionhotrock.co.uk/trip-2/4585321095
South America Southbound
July 4th 2015 - January 2nd 2016
Stage 1 - £2,146
Stage 2 - £1,885
Stage 3 - £1,334
£4,758 (full trip price)