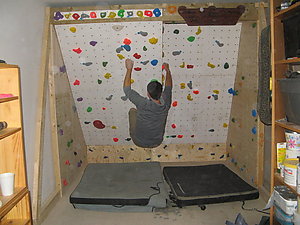 Price: £200
Morning Campers,
My free standing climbing wall is for sale. Features include:
Constructed from 2"x4" stud with a 2"x8" 'apex' beam at the top. Panels are 18mm ply with plenty of T-nuts,
Fits neatly at the back of most single garages (W=2450mm, H=2150mm and D=2400mm),
4ft wide 40' panel is almost 8ft long,
25' panel just under 4ft wide,
Space for a fingerboard (fingerboard not included) with homemade wooden warm up jugs and super spaced crimp edges,
Vertical side panels and 1ft high kicker board,
Over 100 resin holds from medium jugs to tiny edges, small rounded holds and screw ons,
Many homemade wooden holds including pockets, flat slopers and edges,
A plentiful supply of bolts, screws and T-nuts,
Coloured, laminated number labels for 18 move circuits,
All parts carefully labelled when I dismantled it to move house recently, to make reassembly easier,
You could park a small car 'inside' it if space is tight.
Can also be used as a supply of cheap materials for your own project,
Can be dismantled for house moves,
Basically, think of it the ideal climbng wall solution for the end of your garage, with no need to fix it to walls or rafters.
£200 or near offer.
Based just North of Bristol.
Photos are here (more holds added since pictures were taken):
http://www.ukclimbing.com/photos/author.html?id=36740
Joyce