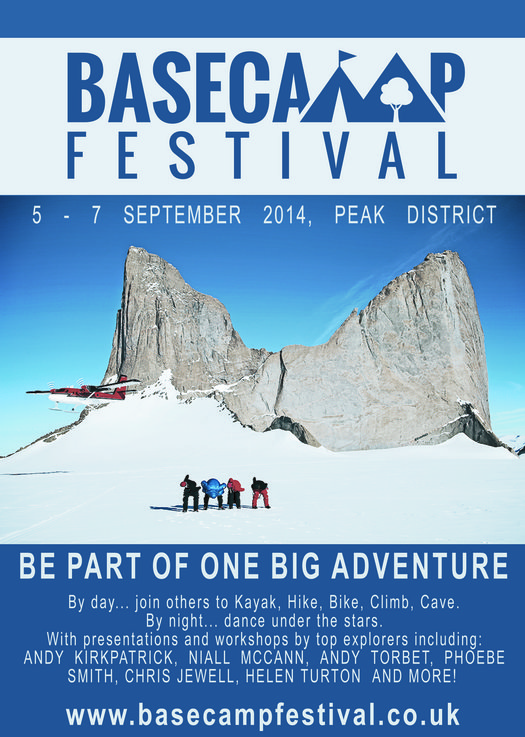 Be part of one big adventure.
Base Camp Festival is a new but simple idea: taking the best from a weekend music festival, mixing it up with adventure and serving it with friends. During the day spend your time doing outdoor activities with like-minded people or learning from experts. Spend the evenings being inspired and entertained by explorers, adventurers and dancing under the stars to live music. Our headline speaker is the climber
Andy Kirkpatrick.
Be part of an adventure community for the weekend, who knows what two days with kindred adventure addicts could do to you?
During the weekend we have a broad selection of activities that are open to everyone no matter what their skill level. Activities and workshops on offer include caving with Chris Jewell, guided mountain biking, climbing, slacklining with Niall McCann, kayaking, abseiling with Andy Torbet, adventure film making, bushcraft skills, landscape photography, travel writing and lots more. This is the perfect chance to try something new, expand your skills with an expert or simply do the adventurous stuff you love with friends.
There is a stellar line up of explorers and adventurers, all here to entertain and inform you or take you on a mini adventure. Our headline speaker is big-wall climber and stand-up comic
Andy Kirkpatrick
. Other speakers include exploratory cave diver
Chris Jewell
, extreme adventurer and TV presenter
Andy Torbet
, expedition leader
Ken Hames
, climber and high-altitude slackliner
Finn McCann
, Everest guide
Jon Gupta
and many more. After the speakers there will be dancing under the stars with live music including our headline band
The Balkan Bandits
.
Base Camp Festival is held in the
Peak District, from 5-7th September 2014
. Tickets are on sale now at £109.50. Tickets include all talks, many workshops and activities free of charge plus others at discounted rates, weekend camping, dinner on Saturday night and much more.
See http://www.basecampfestival.co.uk for more information and to buy tickets.