| | |
| --- | --- |
| | / Mammut Alpine UL 3-season sleeping bag |
This topic has been archived, and won't accept reply postings.
Quite a simple question really... Anyone own one? Or anyone have an experience or view on them?

There seems to be a surprisingly little amount on the internet about them, for something that claims to be one of the lightest synthetic bags ever! I can't even seem to find the 'editors choice' review of it or the 2nd place at the Outdoor gear of the gear show details? Maybe my google in France is being annoying..?

Anyways, let me know what you think folks!


In reply to
bendep:
No, haven't been able to see the bag myself actually as I'm in France. Coming back to the UK soon though, so might have time to have a look, although I'm only here for 3 days before heading off on the trip i'm looking to use it on!
Thanks for the link, a good reminder i need to learn german haha. At the moment I'm just looking for the best bag i can get, 3/4 seasons and waterproof(ish).
Another really interesting bag is the Montane Minimus, which although pricey, looks like a really good bit of kit. That could be another thread though...?

In reply to
bendep:
If you are considering down bags my friend has just bought a Robens Caucasus 300. It gets good reviews on quite a few cycle websites, 0C comfort limit but a bargain at the site below.
http://www.lillywhites.com/robens-caucasus-sleeping-bag-781210
Not waterproof in any way if that is a concern. Alpkit Hunka bivi for £30 over the top may help.
Other bags I have considered are Marmot Cloudbreak 30 from Up and Under in Cardiff. Rab Ignition 2 from Outdoor Shop in Milton Keynes.
Depends where you are returning to in UK as to whether or not you get chance to look before you buy. If you do get a Mammut it would be good to hear what you think of it.
Post edited at 19:17
---
This topic has been archived, and won't accept reply postings.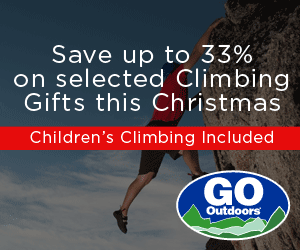 Elsewhere on the site
Perhaps the perfect Xmas gift for the climber in your life... Wild Country's Crack School has two of the worlds best crack... Read more
141219
0
Rock shoes stink – let's face it. Boot Bananas are the perfect way to fight the funk and keep them fresh. They help... Read more
141219
0
Tonight's Friday Night Video features the Norwegian town of Rjukan, once believed to be the home of the world's tallest... Read more
141219
0
At a bar in Llanberis an old man chimed in And I thought he was out of his head Being a young man I just laughed it off When... Read more
141203
0