| | |
| --- | --- |
| | / Arc Teryx gear |
This topic has been archived, and won't accept reply postings.
I am new to the world of climing and I was planning on getting the Arc Teryx Theta A/R jacket. Does Arc Teryx come out with new gear each year? That being the case, should I postpone a purchase until the new gear is introduced?

Thanks for any help,
-Dan
In reply to
abgeneigt:
Theta AR has been a benchmark waterproof/breatable-jacket for a couple of years now. And yes Arc'Teryx does new stuff, but usually doesn't change a working formula (Theta AR, Beta AR, Alpha etc.).
So if you get Theta at a good price just buy it.
Just a thought though, do you really need a w/b-jacket and would a softshell do.
In reply to
HeMa:
Thanks for the help. I think I need a bit more waterproof jacket than a softshell. I just got back from heli-skiing in British Columbia and I was soaked,...and it was -50 farenhight (sp.). Do you think the Theta AR is a good purchase?
Valerie on 10 Feb 2004 - etlibpc19.ucd.ie [garfunkel-e0.ucd.ie]
In reply to
abgeneigt:
I've got a Beta AR jacket, which I find absolutely brilliant. For a Gore jacket it's really light, nice and simple with no fussy gimicks. Only problem is that it is quite short at the front. I know that this is so that it doesn't get in the way of your harness but it tends to ride up further when you do up the waist strap of your pack. If I recall the Theta is that little bit longer. It wasn't on sale when I was buying mine though!
In reply to
abgeneigt:
Theta AR is a good choice for w/b-jacket, I personally have had Beta AR for 4 years now I have been really content with it (a bit short as said before).
So if Theta fits you and the price is good, go for it.
In reply to
abgeneigt:
The Theta AR has been one of Arc'teryx's best selling jackets which has only had detail improvements over the years. There are no major changes with it coming. Its longer than the Beta AR and more suited as an allround jacket. The Beta AR of the last year or so is an inch longer at the front than the original Beta AR model but its still fairly short.
IMO there is nothing to touch Arc'teryx in terms of the quality and functionality of the gear.
SummitDave
Benson
on 11 Feb 2004 -
public2-cosh5-6-cust67970.cosh.broadband.ntl.com
In reply to
Dave: Summit Dave would you know the where abouts of one Neil Mcgeek? did work at Glasgow cc.
belfastphill
on 12 Feb 2004 -
host213-122-222-42.in-addr.btopenworld.com
In reply to
abgeneigt: it i can get an ethereal ice parks by mountain hardware for 190 notes, is it worth the money, or shoulf i wait and go for the arcteryx jacket?
Phil

Anonymous on 13 Feb 2004 - ip216-239-75-205.vif.net
re: ethereal ice

The classic answer "it depends".

It depends on: what do you want to do with your jacket?

If it's strictly skiing, maybe the ice is made from more durable fabric?

But, if you plan to use it in the rain at all, get the
Theta ar

It's their top selling jacket over the alpha sv for THREE
main reasons:

1. The collar can go up without the hood going up, and the "drop" hood fits better than an "zip oout collar" hood

2. Handpockets - the SV is reach across only for climbers
for multi purpose, theta ar is better

3. storm skirt (if I am not mistaken, feel free to correct!)

The only main design change I DON'T like is the removal of the front storm flap.
Call em crazy, but I don't like the idea of an exposed zipper, period. If it fails..then what?
At least the snaps keep the jacket shut.

For skiing, sheck out the "descent" line, lots of good options. The cut is a little roomier for winter layering

But the arc'teryx shells are the best out there.

Patagonia Torre and Super Alpine are no longer made.
The Patagonia Ice Nince is a lesser descendent of those two classic shells (had all 3)










---
This topic has been archived, and won't accept reply postings.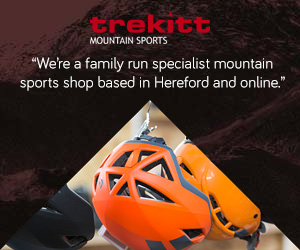 Elsewhere on the site
At a bar in Llanberis an old man chimed in And I thought he was out of his head Being a young man I just laughed it off When... Read more
141203
0
F ounded in 1993, Mountain Hardwear are a pretty young mountaineering clothing and equipment manufacturer but are also one of... Read more
141216
0
Will Sim and Andy Inglis have made the second ascent of VIII,9 on Ben Nevis, followed by Will making a rare... Read more
141222
0
Perhaps the perfect Xmas gift for the climber in your life... Wild Country's Crack School has two of the worlds best crack... Read more
141219
0
PowerFingers is a simple, easy to use product which is incredibly effective for Climbers who require finger strength and... Read more
141222
0
---