Team Manager Required for 'XC'
added Mar/2011
announcement by
manufacturer
This announcement has been read 3,522 times
Recruitment no closed, vacancy filled.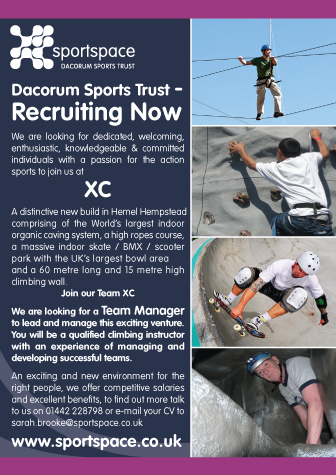 Dacorum Sports Trust is looking for dedicated, welcoming, enthusiastic, knowledgable and committed individuals with a passion for the action sports to join us at 'XC'
We are looking for a 'TEAM MANAGER' to lead and manage this new exciting venture. You will be a qualified climbing instructor with an experience of managing and developing successful teams.
An exciting and new environment for the right people, we offer competitive salaries and excellent staff benefits.
To find out more please contact Sarah Brooke on 01442 228798, alternatively to apply for this vacancy please visit www.sportspace.co.uk
Gear Forum
(
Read more
| 3 comments, 21 Apr 2011
)
This announcement has been read 3,522 times
---
Gear News and Outdoor Industry News at UKC and UKH presents climbing, walking and mountaineering equipment and stories that will be of interest to UKClimbing.com's readers. They are not gear reviews and are provided by companies that advertise with UKClimbing Limited. Please feel free to comment about the stories and products on the associated thread.