Duty Manager Vacancy At Leeds Wall
added Jan/2013
announcement by
manufacturer
This announcement has been read 1,971 times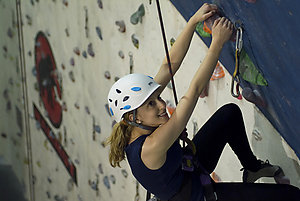 We are looking for an enthusiastic climber to join our Management Team. The Leeds Wall is a large dedicated climbing centre that has been running for 17 years. We cater for beginners to competition climbers and have a large number of visitors on instructed sessions.
Main responsibilities and key tasks:
Opening and closing the climbing centre

Health and safety of customers, visitors and staff

To maintain a safe, clean and enjoyable centre

Regular checks of the centre, including shop, cafe and changing facilities

Responsible for running of tills, cashing up and money handling

To produce a Duty Manager's Report, passing information to next shift

To take bookings for instructed sessions

To deal with customer comments, suggestions and complaints at first instance

Ensure that the General Manager or senior on call is informed immediately of any serious situation, particularly accidents or near misses

To carry out other reasonable tasks required in line with the nature of the business

Performance measured by:


Customer feedback

Health and safety of customers, visitors and staff

Effectiveness and efficiency of reception

Cleanliness and general appearance of the centre

Hours & pay:

30-40 hours over 5 days including evenings and weekends. Pay will be related to experience, performance reviews and responsibilities undertaken

Applicants should apply by sending a CV and covering letter to Emma Biczyk, Assistant Manager. Please include management and climbing experience. Email info@theleedswall.co.uk. Closing date: as soon as we find the right person!

Gear Forum

(

Read more | 1 comments, 17 Jan 2013

)

This announcement has been read 1,971 times
More In This Category
Related UKC Forum discussions
---
Gear News and Outdoor Industry News at UKC and UKH presents climbing, walking and mountaineering equipment and stories that will be of interest to UKClimbing.com's readers. They are not gear reviews and are provided by companies that advertise with UKClimbing Limited. Please feel free to comment about the stories and products on the associated thread.
Please support the following outdoor retailers who support
UKClimbing.com
: