A protest against a potential nuclear waste store beneath Lakeland's unspoilt Ennerdale valley was held on Saturday 26 January, in advance of a vote by local councils on whether to proceed with the process of finding a site for the huge facility.

Full details HERE
Reviewed: Icebreaker Quantum Long Sleeve Zip Hood
Charlie Boscoe reviews one of Icebreaker's most popular styles. The Quantum is a long sleeved zip-up hoody from Icebreaker's Technical Mid Layers collection.

read more...
Photo of the Week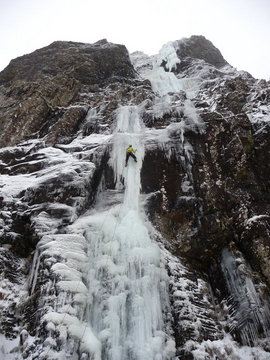 "Misha taking it steady for the 1st appendix tick of the year.." © wolf.leeb
CLIMB LIKE A MASTER!
If you're looking to improve your rock climbing, indoors or out, then come along to the BMC Climbing Movement Masterclasses - run by top climber Naomi Buys.
Sponsored by Cotswold Outdoor these excellent masterclasses will be touring the UK in April 2013 so why not come along and get some expert analysis.
The classes are for those climbing French 5 to 6b+. Maximum of six people per two hour class.
Sponsoring the UKC Newsletter - contact us
Forums
The most popular Climbing Forums in the world, with 10,200 new messages last week. Talk about the routes you're going to do, ethical debates, foreign trips, winter routes and conditions or expeditions. Some of the busiest of the 1200+ topics this week included: The No.1 poster in our Top 40 Posters this week was Blue Straggler.

The New Rockfax Guidebook to the Costa Blanca
Special offer price of £24.95
Books delivered as soon as it is published in mid February.
Sponsoring the UKC Newsletter - contact us
Latest News
All the Latest News from the UK and around the world. No more waiting for next month's magazine:
Photos
Gallery of the Week

Our Photo Gallery contains a unique collection of over 155,100 images from UKClimbing users, with 380 new photos added this week.

As a registered user you can upload your photos into your personal gallery, as well as voting on any photo on the site. This week we had 2,245 votes, and the top voter was Mark Collins.

Congratulations to David Dear, our Gallery of the Week as voted by UKC users.
Events Diary
All the dates you need in our Events Diary for Competitions, lectures and even club meets:
Latest Articles
Read our Latest Articles for inspirational rock destinations, interviews, gear reviews, competitions and much more:

The Mystery of the Black Mount: How did those footprints just disappear, and what happened to the walker who made them? Spontaneous combustion? Alien abduction? John Burns has a confession to make.
Adventures From -49 Degrees South: James Monypenny tells the story of his Patagonia Adventures... A few weeks ago a photo popped up on UKClimbing.com. It won photo of the week, yet we had several complaints about it....
COMPETITION: Win a Primus Express Lander Stove: Answer one question and stand a chance of winning a Primus Express Lander Stove.
TRIP REPORT: QUBMC 2012 Kyrgyzstan Expedition: In this trip report we hear about the 2012 summer QUBMC (Queen's University Belfast Mountaineering Club) & Alumni and company expedition to Western Kokshaal-Too,...
Inspiring a Generation - Doug Scott: Following the national high of the 2012 London Olympics and its now famous motto 'Inspiring a Generation', UK Climbing member Laurie Adams reflects on Doug Scott. A mountaineer who...
Newsletter Options
To unsubscribe from this email list, make sure you are logged in as a registered user, and use the User Options page to change your newsletter options. You can also change your subscribed email address and your password from the same page.

You can alternatively get an alert each week when the newsletter comes out using an RSS feed