Over the last year women climbers have achieved great heights in bouldering, sport climbing and trad climbing.

In the last week alone British women climbers have climbed sport 8b+ and highball Font 8A.

Find out what women climbers have been up to at the UKC news Page
New Product: WHAT'S AVAILABLE: Synthetic Insulated Jackets
A range of hooded synthetic insulated jackets available now. Some, like the popular Arc'teryx Atom, are lighter weight and ideal for wearing on the move or for belaying in warmer temperatures. Others are heavier and more suitable as cold weather 'belay jackets', such as Patagonia's well-known Das Parka.

read more...
Photo of the Week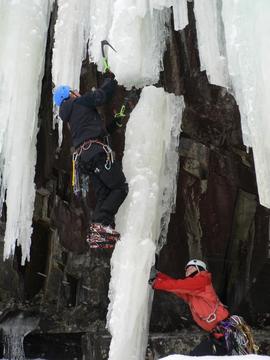 "Pay attention" © Pay attention
Alpkit Bouldering Mats
We can't crank the worlds hardest problems and although we know a few we have never been a world champion. Fortunately we do know a thing or two about falling and bouldering mats. We have been involved in boulder mat development since the late nineties. As our team has grown and materials have developed we have continued to research and learn to ensure we are making the best pads we can.
Sponsoring the UKC Newsletter - contact us
Forums
The most popular Climbing Forums in the world, with 10,100 new messages last week. Talk about the routes you're going to do, ethical debates, foreign trips, winter routes and conditions or expeditions. Some of the busiest of the 1100+ topics this week included: The No.1 poster in our Top 40 Posters this week was Blue Straggler.

PhotoFramer is a brand new site, where you can easily design and create framed pictures from all of your great climbing photos.
Upload your images, choose your design, choose your materials. We print and frame your pictures.
Try it out now, for your 20% discount.
Sponsoring the UKC Newsletter - contact us
Latest News
All the Latest News from the UK and around the world. No more waiting for next month's magazine:
Photos
Gallery of the Week

Our Photo Gallery contains a unique collection of over 156,300 images from UKClimbing users, with 410 new photos added this week.

As a registered user you can upload your photos into your personal gallery, as well as voting on any photo on the site. This week we had 2,508 votes, and the top voter was Mark Collins.

Congratulations to mwatson, our Gallery of the Week as voted by UKC users.
Events Diary
All the dates you need in our Events Diary for Competitions, lectures and even club meets:
Latest Articles
Read our Latest Articles for inspirational rock destinations, interviews, gear reviews, competitions and much more:

A New 'Style' of Climbing: the Eco-Mountaineer: In this article Ben Lewis, researcher at the University of Leeds, takes a look at climbing, consumption and the environment and gives us a few simple ideas on what we...
Mountain Accidents and Media Sensationalism: The recent cluster of winter mountaineering accidents in the Scottish Highlands has filled the national media, and there have been predictable calls to regulate and...
It was twenty years ago today...: On reaching a milestone of twenty years of climbing and the birth of his first child, UKC User Rampikino takes a trip down memory lane to the routes he first climbed, whilst at the...
Ireland in Winter: Ireland's mountains aren't renowned for reliable snow, but never say never. Outdoor writer and photographer Adrian Hendroff offers plenty of reasons to get out there and make the most of the fickle...
Obituary: George Shields, 1930 -2012: Paul Ross remembers George Sheilds, pioneer, adventurer, Creagh Dhu member. "Consider that your only protection was with quarter inch slings (some times doubled) over spikes if...
Newsletter Options
To unsubscribe from this email list, make sure you are logged in as a registered user, and use the User Options page to change your newsletter options. You can also change your subscribed email address and your password from the same page.

You can alternatively get an alert each week when the newsletter comes out using an RSS feed