Calum Muskett and Dave MacLeod have just made a very quick repeat of Ueli Steck's testpiece Paciencia, 8a, on the Rote Fluh section of the North Face of the Eiger in Switzerland.

Read the report HERE
Feature: The Nose: Climbed Despite Cancer
This is an article by Finn McCann about his ascent of one of the most famous routes in the world, The Nose on El Capitan with is father. What makes this story so special is that Finn's Dad was diagnosed with pleural mesothelioma, a form of terminal lung cancer, in 2004...

read more...
Photo of the Week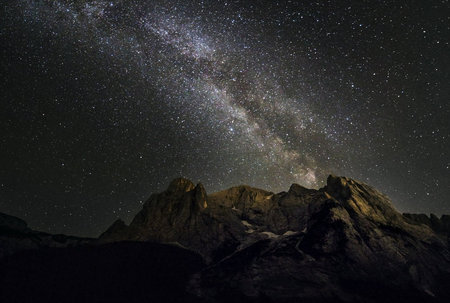 "The Marmolada by night." © James Rushforth
Sponsoring the UKC Newsletter - contact us
Forums
The most popular Climbing Forums in the world, with 8,300 new messages last week. Talk about the routes you're going to do, ethical debates, foreign trips, winter routes and conditions or expeditions. Some of the busiest of the 900+ topics this week included: The No.1 poster in our Top 40 Posters this week was Neil Williams.

SportPursuit is the UK's first sport flash sales club offering its members access to great cycling and outdoor brands every day, always at unbeatable prices (typically 30% to 70% off RRP). The team at SportPursuit are continually scouring the globe for the best outdoor brands, ensuring they bring their members the best deals on everything from household names to well-kept professional secrets.
Click here to join for Free today and discover more great brands we work with
Sponsoring the UKC Newsletter - contact us
Latest News
All the Latest News from the UK and around the world. No more waiting for next month's magazine:
Photos
Gallery of the Week

Our Photo Gallery contains a unique collection of over 165,500 images from UKClimbing users, with 274 new photos added this week.

As a registered user you can upload your photos into your personal gallery, as well as voting on any photo on the site. This week we had 2,190 votes, and the top voter was Mark Collins.

Congratulations to radson, our Gallery of the Week as voted by UKC users.
Events Diary
All the dates you need in our Events Diary for Competitions, lectures and even club meets:
Latest Articles
Read our Latest Articles for inspirational rock destinations, interviews, gear reviews, competitions and much more:

Cuillin Traverse Times Two: During the heatwave of July, Paul Tattersall set himself an ambitious personal challenge - two back-to-back traverses of the Cuillin ridge. Here's his account.
VIDEO: Tom Randall on Appointment With Death E9 6c: Earlier this year Tom Randall succeeded in making the second ascent ascent of Sam Whittaker's Wimberry masterpiece, Appointment with Death, E9 6c. The route had...
Intro to Trekking in Nepal, part 1: When to go, what to carry and what should you expect when you get there? In this two-part series Jagged Globe group leader Rebecca Coles offers a brief beginner's guide to Nepal - a...
Farrletter: Too Farr for the Bolt?: In this article, Sports Developement Officer for the MCofS, Kevin Howett looks at the history of Farrletter and the debate that has gone on about whether the crag should be bolted,...
Newsletter Options
To unsubscribe from this email list, make sure you are logged in as a registered user, and use the User Options page to change your newsletter options. You can also change your subscribed email address and your password from the same page.

You can alternatively get an alert each week when the newsletter comes out using an RSS feed