Here Pete Robins talks to James McHaffie about his ascent of Indian Face, but also about the countless other hard Trad routes he has knocked off this summer.

Read more HERE
New Product: Is this the best down jacket ever made?

read more...
Photo of the Week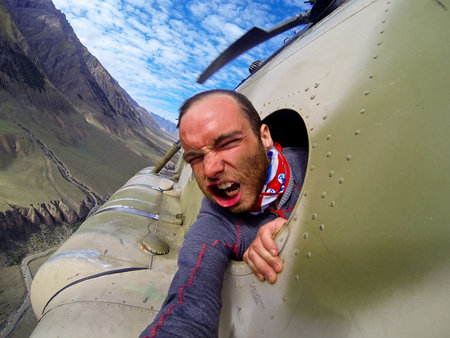 "Enjoying the heli flight back to Madia-Adyr after 3 weeks climbing in the Djangart valley of Kyrgyzstan." © George Cave
The Reel Rock Film Tour brings an extraordinary collection of brand new climbing films to the UK this OCTOBER. Witness the epic clash on Mt. Everest with Ueli Steck and Simone Moro; futuristic trad featuring Hazel Findlay; wild first ascents in Borneo with Daniel Woods and Yuji Hirayama; as well as the legendary story of the Stonemasters in Yosemite National Park.
You can catch a Reel Rock screening in Lancaster, Ebbw Vale, Matlock Bath, Colwyn Bay, Bathgate, Aviemore, Loch Lomond, Birmingham, London, Penrith, York, Plymouth, Southampton, Sheffield, Bristol and Newcastle.
To book tickets and view the trailer head to: www.reelrock.co.uk.
Heaps of prize giveaways each night!
Sponsoring the UKC Newsletter - contact us
Forums
The most popular Climbing Forums in the world, with 8,300 new messages last week. Talk about the routes you're going to do, ethical debates, foreign trips, winter routes and conditions or expeditions. Some of the busiest of the 800+ topics this week included: The No.1 poster in our Top 40 Posters this week was Robert Durran.

Sponsoring the UKC Newsletter - contact us
Latest News
All the Latest News from the UK and around the world. No more waiting for next month's magazine:
Photos
Gallery of the Week

Our Photo Gallery contains a unique collection of over 166,600 images from UKClimbing users, with 293 new photos added this week.

As a registered user you can upload your photos into your personal gallery, as well as voting on any photo on the site. This week we had 2,658 votes, and the top voter was rockrat.

Congratulations to Jon Griffith, our Gallery of the Week as voted by UKC users.
Events Diary
All the dates you need in our Events Diary for Competitions, lectures and even club meets:
Latest Articles
Read our Latest Articles for inspirational rock destinations, interviews, gear reviews, competitions and much more:

Rock Climbing Basics 6: Placing Wires: This is the sixth in a 12-part series from Climbing Magazine, Wild Country and Red Chili, demonstrating and explaining the basic skills needed to be safe on the crags. In this...
James McHaffie's Summer Ticklist and Interview: In this article Pete Robins takes a look at what has been going down on the Trad in Wales over the summer, and that means one thing... talking to James McHaffie!...
Rock Climbing Basics 5: Clipping : This is the fifth in a 12-part series from Climbing Magazine, Wild Country and Red Chili, demonstrating and explaining the basic skills needed to be safe on the crags. In this...
Return to Indian Face by James McHaffie: Despite a near death experience on the wall over a decade prior, when James strayed off route climbing onsight on the E7 Masters' Wall, he was drawn back to this blank slab on...
Two 60m Beal Gully 7.3mm Unicore Ropes To Win: There are two 60m Beal Gully 7.3mm Unicore Ropes to win in this Lyon Equipment competition
Newsletter Options
To unsubscribe from this email list, make sure you are logged in as a registered user, and use the User Options page to change your newsletter options. You can also change your subscribed email address and your password from the same page.

You can alternatively get an alert each week when the newsletter comes out using an RSS feed