Access to the outdoors can provide kids with something called 'social advantage', and help overcome some of the difficulties associated with low incomes.

Read more at Outdoors 'Key to Social Advantage'
New Product: VOLUNTARY RECALL - Wild Country Rocks
For the safety of all of our customers Wild Country are issuing an immediate recall of certain batches of Wild Country Classic Rocks and Anodised Rocks.

read more...
Photo of the Week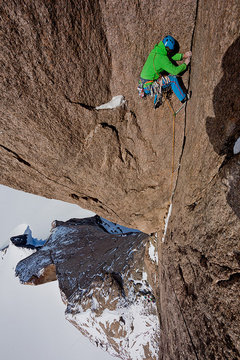 "Sean Leary, pitch 23, NE ridge of Ulvetanna, Antarctica. Taken from 'The Last Great Climb'." © Alastair Lee
The Reel Rock Film Tour brings an extraordinary collection of brand new climbing films to the UK this OCTOBER. Witness the epic clash on Mt. Everest with Ueli Steck and Simone Moro; futuristic trad featuring Hazel Findlay; wild first ascents in Borneo with Daniel Woods and Yuji Hirayama; as well as the legendary story of the Stonemasters in Yosemite National Park.
You can catch a Reel Rock screening in Lancaster, Ebbw Vale, Matlock Bath, Colwyn Bay, Bathgate, Aviemore, Loch Lomond, Birmingham, London, Penrith, York, Plymouth, Southampton, Sheffield, Bristol and Newcastle.
To book tickets and view the trailer head to: www.reelrock.co.uk.
Heaps of prize giveaways each night!
Sponsoring the UKC Newsletter - contact us
Forums
The most popular Climbing Forums in the world, with 7,800 new messages last week. Talk about the routes you're going to do, ethical debates, foreign trips, winter routes and conditions or expeditions. Some of the busiest of the 800+ topics this week included: The No.1 poster in our Top 40 Posters this week was mgco3.

This autumn and winter, Tim Emmett will be traveling around the United Kingdom, hosting presentations and clinics on his recent expeditions to Iceland, Pakistan, and British Columbia.
Sponsoring the UKC Newsletter - contact us
Latest News
All the Latest News from the UK and around the world. No more waiting for next month's magazine:
Photos
Gallery of the Week

Our Photo Gallery contains a unique collection of over 168,100 images from UKClimbing users, with 257 new photos added this week.

As a registered user you can upload your photos into your personal gallery, as well as voting on any photo on the site. This week we had 2,625 votes, and the top voter was Mark Collins.

Congratulations to ali k, our Gallery of the Week as voted by UKC users.
Events Diary
All the dates you need in our Events Diary for Competitions, lectures and even club meets:
Latest Articles
Read our Latest Articles for inspirational rock destinations, interviews, gear reviews, competitions and much more:

How to Climb Mont Blanc - The Two Easiest Routes: In this Mont Blanc destination article, Chamonix resident and UKC Gear Reviewer Charlie Boscoe takes us through the two easiest routes up western Europe's highest...
COMPETITION: Win An Exped DownMat UL 7 Sleeping Mat: Win an ultralight version of the DownMat sporting identically high R-Values, yet weight and packed size are in a league of their own.
Rock Climbing Basics 12: Abseil Knots: This is the twelfth in a 12-part series from Climbing Magazine, Wild Country and Red Chili, demonstrating and explaining the basic skills needed to be safe on the crags. In this...
Opinion Piece: Access Denied: Outdoor blogger John Appleby pours scorn on the state of public access in England and Wales, and the 'plate of cold tripe' that is the CRoW Act.
COMP: Jöttnar: Two Years in Design, Development and...: Jöttnar - Relentless, Ferocious, Formidable. Launching today, we make technical clothing for mountaineering, winter climbing and all-mountain...
Newsletter Options
To unsubscribe from this email list, make sure you are logged in as a registered user, and use the User Options page to change your newsletter options. You can also change your subscribed email address and your password from the same page.

You can alternatively get an alert each week when the newsletter comes out using an RSS feed