Plas y Brenin, the National Mountain Sports Centre are once again running their Big Winter Climb weekend in conjunction with UKClimbing.com.

Learn from the experts. The weekend (30 Nov-1 Dec) is made up of a series of opt-in workshops covering a diverse range of winter climbing and mountaineering skills and techniques, with something to suit absolutely everyone.

For more details and to book your place go to www.pyb.co.uk
New Product: Arc'teryx Cerium LT Hoody
The Cerium LT hoody is the lightest and warmest peice in Arc'teryx's new range of down jackets. Aimed at backcountry & alpine use - the key to the Cerium's weightless, agile freedom  include underarm gussets for better mobility, a three part sleeve construction for better elbow/arm articulation, Down Composite Mapping to protect against moisture and a very lightweight yet durable face fabric that can hold up to everyday wear.  

read more...
Photo of the Week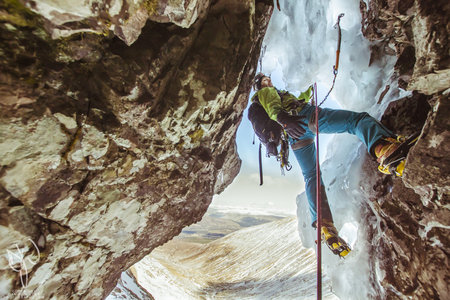 "Tommy Kelly pulling out of the cave on Minus Three Gully" © wildeybeast
Shauna Coxsey at Kendal Mountain Festival
Shauna redpointed Raindogs, one of Malham Cove's finest F8a sport routes, at the age of 16 everyone knew there was going to be trouble!
Since then she chucked her rope away and steadily cruised to the top of the bouldering game with ascents up to V12 and incredible World Cup competition performances. Last year she was in the finals many times, and came third in the world overall, despite missing the last event due to a broken leg. She's one of the strongest female climbers the UK has ever seen.
Sponsoring the UKC Newsletter - contact us
Forums
The most popular Climbing Forums in the world, with 8,300 new messages last week. Talk about the routes you're going to do, ethical debates, foreign trips, winter routes and conditions or expeditions. Some of the busiest of the 900+ topics this week included: The No.1 poster in our Top 40 Posters this week was Tim Chappell.

Save up to 70% off outdoor clothing and climbing kit with SportPursuit.
SportPursuit offers huge savings on top brands with up coming sales including Grifone, Black Diamond and Bergson.
Other sales include up to 70% off great kit such as merino baselayers, Goretex jackets and walking boots. With weekly sales and over 500 brands you'll always find something you want. So sign up today and see what awesome brands and huge savings are available.
Sponsoring the UKC Newsletter - contact us
Latest News
All the Latest News from the UK and around the world. No more waiting for next month's magazine:
Photos
Gallery of the Week

Our Photo Gallery contains a unique collection of over 168,800 images from UKClimbing users, with 175 new photos added this week.

As a registered user you can upload your photos into your personal gallery, as well as voting on any photo on the site. This week we had 1,792 votes, and the top voter was DGY.

Congratulations to stevethex, our Gallery of the Week as voted by UKC users.
Events Diary
All the dates you need in our Events Diary for Competitions, lectures and even club meets:
Latest Articles
Read our Latest Articles for inspirational rock destinations, interviews, gear reviews, competitions and much more:
Newsletter Options
To unsubscribe from this email list, make sure you are logged in as a registered user, and use the User Options page to change your newsletter options. You can also change your subscribed email address and your password from the same page.

You can alternatively get an alert each week when the newsletter comes out using an RSS feed