Nadir Khan, gives a selection of tips and tricks to help you get the most out of your photography during the winter climbing season.
Read more at Snow & Ice Climbing Photography Techniques
Photo of the Week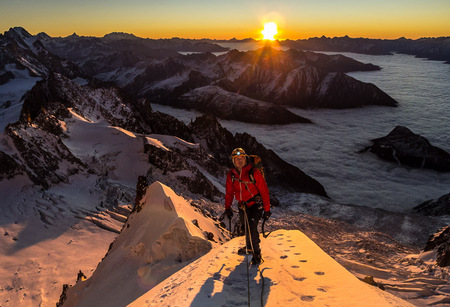 "Roger Knox on the Brenva Spur" © Ben Tibbetts
Ueli Steck
On the 23rd of January, Ueli will take to the stage at the Royal Geographical Society to share inspiring stories of his recent adventures. Time: 7pm, 23 January 2014 Location: Royal Geographical Society, 1 Kensington Gore, London, SW7 2AR Tickets: £15
Sponsoring the UKC Newsletter - contact us
Forums
The most popular Climbing Forums in the world, with 7,800 new messages last week. Talk about the routes you're going to do, ethical debates, foreign trips, winter routes and conditions or expeditions. Some of the busiest of the 900+ topics this week included: The No.1 poster in our Top 40 Posters this week was johnj.

WORLD EXCLUSIVE: FIRST LIGHT Trailer a video by Duct Tape Then Beer and Arc'teryx
Sponsoring the UKC Newsletter - contact us
Latest News
All the Latest News from the UK and around the world. No more waiting for next month's magazine:
Photos
Gallery of the Week

Our Photo Gallery contains a unique collection of over 170,700 images from UKClimbing users, with 228 new photos added this week.

As a registered user you can upload your photos into your personal gallery, as well as voting on any photo on the site. This week we had 2,143 votes, and the top voter was rockrat.

Congratulations to RAB623, our Gallery of the Week as voted by UKC users.
Events Diary
All the dates you need in our Events Diary for Competitions, lectures and even club meets:
Latest Articles
Read our Latest Articles for inspirational rock destinations, interviews, gear reviews, competitions and much more:

The Fours - A New English Hill List: The people behind Welsh 400m ticklist The Pedwars/Y Pedwarau have now given England the same treatment, and the result is The Fours - all 300 or so of them. The team explains...
Classic Mountain Biking in The Lakes: With his new Lake District MTB guidebook having recently hit the shelves, site regular and mountain bike route guru Tom Hutton tells us what's so good...
Tricks for the Time-Starved Climber: In this article, father and owner of two businesses, John Kettle looks into how time-starved climbers can still get the most out of their climbing through using their time...
COMPETITION: Win a MONTANE® Alpine Endurance...: Premium British outdoor gear brand MONTANE® has teamed up with eVent®wateroproof fabrics to offer you a fantastic prize - one lucky entrant will walk...
WINNERS: Win a Pair of Ueli Steck Tickets: Win a pair of Ueli Steck tickets for his unmissable lecture at the Royal Geographical Society in London on 23 January 2014.
Newsletter Options
To unsubscribe from this email list, make sure you are logged in as a registered user, and use the User Options page to change your newsletter options. You can also change your subscribed email address and your password from the same page.

You can alternatively get an alert each week when the newsletter comes out using an RSS feed