The IIs and IIIs are more than just a stepping stone to harder things, reckons Dan Bailey, but a rewarding goal in their own right. This selection spans everything from popular classics to obscure gems, from ridges to gullies, and from low level ice falls to remote mountaineering adventures.

Read more at Scottish Winter: Ten Must-do Routes at II and III
New Product: Product Developer - DMM

read more...
Photo of the Week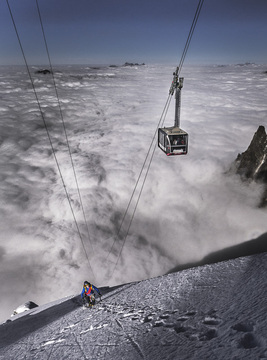 "Tom Grant on the final slopes of the Eugster, Aiguille du Midi, France" © Ben Tibbetts
Ueli Steck
On the 23rd of January, Ueli will take to the stage at the Royal Geographical Society to share inspiring stories of his recent adventures. Time: 7pm, 23 January 2014 Location: Royal Geographical Society, 1 Kensington Gore, London, SW7 2AR Tickets: £15
Sponsoring the UKC Newsletter - contact us
Forums
The most popular Climbing Forums in the world, with 6,000 new messages last week. Talk about the routes you're going to do, ethical debates, foreign trips, winter routes and conditions or expeditions. Some of the busiest of the 600+ topics this week included: The No.1 poster in our Top 40 Posters this week was Choss.

Save up to 70% off outdoor clothing, climbing kit and ski wear with SportPursuit.
SportPursuit offers huge savings on top brands with sales including Icebreaker, Craghoppers, GoPro and Black Diamond. Other sales include up to 70% off great kit such as merino baselayers, Goretex jackets and walking boots. With weekly sales and over 500 brands you'll always find something you want.
Sponsoring the UKC Newsletter - contact us
Latest News
All the Latest News from the UK and around the world. No more waiting for next month's magazine:
Photos
Gallery of the Week

Our Photo Gallery contains a unique collection of over 170,900 images from UKClimbing users, with 153 new photos added this week.

As a registered user you can upload your photos into your personal gallery, as well as voting on any photo on the site. This week we had 1,698 votes, and the top voter was richardeb.

Congratulations to RAB623, our Gallery of the Week as voted by UKC users.
Events Diary
All the dates you need in our Events Diary for Competitions, lectures and even club meets:
Latest Articles
Read our Latest Articles for inspirational rock destinations, interviews, gear reviews, competitions and much more:
Newsletter Options
To unsubscribe from this email list, make sure you are logged in as a registered user, and use the User Options page to change your newsletter options. You can also change your subscribed email address and your password from the same page.

You can alternatively get an alert each week when the newsletter comes out using an RSS feed