| | |
| --- | --- |
| | / PRODUCT NEWS: Alpkit Figfour |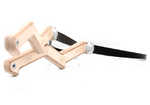 Figfour is the innovative and award winning specialized training aid for mixed climbing and dry tooling. Designed to allow climbers to accurately replicate the actions of mixed climbing indoors, without damaging the resin holds or base panels of existing climbing surfaces with the sharp picks found on traditional ice axes.
Read more at http://www.ukclimbing.com/gear/news.php?id=2725
In reply to
UKC Gear:
Pete is currently up in Lancaster today talking about his year since winning the award for his design of the Figfour.
http://www.innovation-for-extremes.org/introduction.html
According to the agenda he should be up at 4.40pm on the webcast
Or if you want to find out a little more about the award click The OIA and Innov_ex 10 – inspiring the next generation of outdoor innovators in the latest news section on the site.
Cheers
Nick
In reply to
UKC Gear: Spotted a copy of figfours in a shop up in the Peak, enquired and was told they were maybe not being made by alpkit anymore.
What's the deal? Are you still going to do them?
In reply to
Herman Shake: Sorry! Used my initiative and checked the site...
---
This topic has been archived, and won't accept reply postings.