| | |
| --- | --- |
| | / PRODUCT NEWS: Exped Drypack Pro |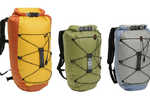 Avoiding wet kit is an issue for any outdoor enthusiast, especially in the reliably damp UK. Exped's 2010 range of versatile, super-light, daysack style dry bags offer an easy solution to this irritating problem.
Read more at http://www.ukclimbing.com/gear/news.php?id=2435
In reply to
UKC Gear: i'm trying to see how these differ from the Alpkit bags, apart from they are more expensive and the alpkit ones are proven to be great?
In reply to
mr rob:
Ive got an Aplkit Gourdon and one of these Exped bags. The Exped is much lighter and can be rolled away very small. The Alpkit I use on my mountain bike as its just a bit heavy (bombproof though). I highly recommend both of these but all depends on what you need the bag for!
In reply to
UKC Gear: ahh ok they are lighter, guessing they are the same material as their normal roll top sacks?
I did mean the Gordan and not the dry dock. Both are great though as is everything i have ever owed from alpkit (i did get the chop sticks for christmas and cant quite see the point though!)
In reply to
mr rob:
Yes they are the same as the roll top packs, though it does have a slightly padded/thicker back section to it.
Yeah i'm an Alpkit fan aswell. Great kit and great prices.
---
This topic has been archived, and won't accept reply postings.