| | |
| --- | --- |
| | / PRODUCT NEWS: Extreme Logan Jacket |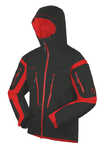 Mammut's Extreme Logan Jacket is their top-end signature piece. It's a very durable and waterproof form-fitting stretch jacket designed for professional, high-alpine use, which ensures an ideal body climate.
Read more at http://www.ukclimbing.com/gear/news.php?id=2399
In reply to
UKC Gear:
£450 to look like a right tit?
No thanks.
Not being funny, but why are Mammut's garments so utterly hideous?
Whats wrong with the colours? I dont mind it at all, just mind the price, ...
In reply to
UKC Gear: How much !!!!! 450 is pushing abit, anyone care to tell us what the profit margin is like on the jacket if it was sold for £450 at a highstreet shop?
In reply to
5cifi:
Most likely exactly the same as the profit margin on any other piece of clothing sold in the same shop. If you don't like the price of this jacket, or any other item that you complain about the price of for that matter, then don't buy it. This is clearly being marketed as the Rolls-Royce of waterproofs, if you haven't got the cash or the inclination then ignore it.
---
This topic has been archived, and won't accept reply postings.