| | |
| --- | --- |
| | / NEW REVIEW: Westcomb Recon Soft Shell Trousers |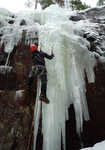 The Westcomb Recons are all-mountain trousers with a design and cut that gives them, as the Westcomb website says, 'on- or off- the mountain versatility', says Toby Archer. This can be seen as a strength or weakness dependent on your perspective - something I will return to later.
The Recon trousers are made with Schoeller Dynamic fabric, which is stretchy, totally breathable, wind resistant and surprisingly water resistant as well. The trousers coped easily with wet snow and sleet whilst I tested them, to the extent that I didn't even consider putting waterproof trousers on during a soggy early season ice climbing trip.

Read more at http://www.ukclimbing.com/gear/review.php?id=2538
In reply to
Toby
Did you try skiing in them ? and assuming they'll be to long for my short legs, how easy would they be to shorten ?
Doug
ps - still not sure if I'll be in Helsinki on Sunday evening or not
In reply to
Doug: Hi Doug - I was going to tell Sarah and Mick to "hold the front page", or gear page at least, but forgot - because yes; I did a load of days in Norway wearing the Recons and as a result have reappraised them quite significantly. They worked perfectly for ski mountaineering for me, with the baggy lower leg design becoming an asset in that they easily fitted over my ski boots (Scarpa T2s). You can sort of see it here:
http://www.ukclimbing.com/images/dbpage.html?id=141525
In comparison, my friend Ed borrowed my Marmot Scree pants and the tounge of his boots (an AT boots so a bit bulkier and higher) had actually made a rip in the material by the end of the week, because to get the pant leg over the boot it had to be pulled so tight.
You could shorten them I guess - the hem has a drawcord in it though:
http://www.ukclimbing.com/images/dbpage.html?id=138373
With longjohns underneath they were the perfect warmth - kept the wind off on the summits at well below zero temperatures but weren't too hot whilst skinning up and sweating like a pig. Dave always skis in his Goretex sallopettes but I much prefer softshell because I sweat so much on the ups. They also didn't get soggy with my inevitable falling over. So I still feel the Recon might not be the best general British softshell climbing/hiking trouser (a bit pricey besides anything else) but the will be my first choice ski mountaineering trousers for years to come.
---
This topic has been archived, and won't accept reply postings.